Cool Gales @Topshop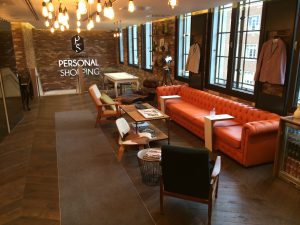 The Topshop store at Oxford Circus, London, is the largest fashion store in the UK, with more than a million visitors a month. So in April 2014, when Topshop asked us to supply hi-fi gear for their new men's personal shopper lounge, we were thrilled and honoured. Our brief: a reasonably priced, great sounding and great looking, analogue-only system.
We put together an eye-popper. The turntable is a Scheu Premier Mk II, a model we frequently recommend to anyone looking for a near-reference deck at an affordable price. The original unipivot tonearm proved a bit tricky for the many staff users, so we replaced it with a Michell TecnoArm. The original moving-coil cartridge, suffered multiple times from a broken cantilever, perhaps courtesty of the evening cleaners, so we installed a basic Ortofon OM 5E, perfect for heavy use with its replaceable stylus.
Amp and phono stage were from Ikon Audio, although today we'd be suggesting PrimaLuna, both visually appealing designs with exposed valves.
Speakers are the Eclipse TD510z Mk 2s, the smaller siblings of our reference TD712z Mk 2s. And all the cabling is by Chord Cables, our go-to range for great sounding cables at down-to-earth prices.
The system has been a huge hit with visitors, including many celebrities. During London Fashion Week festivities, it's the centrepiece for music-filled events.
Next time you find yourself in the Oxford Circus area of London, do drop by the men's personal shopper lounge at Topshop. Bring a favourite record. The staff there are all charming and friendly, and only too happy to demonstrate their Cool Gales audio system!