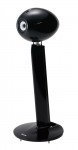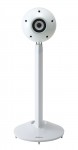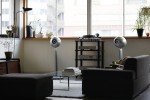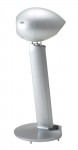 Eclipse TD510z Mk2
Product Code: ECL010
£4,495.00
ex-vat: £ 3,745.83
The Eclipse TD510z Mk2 speakers are updated versions of the hugely successful TD510s, with greater frequency range, finer detail, and more "weight" to the sound. The TD510z Mk2 is a floorstanding model, equipped with specially designed integral stand.
Eclipse speakers are designed by Fujitsu Ten, a specialist off-shoot of the Japanese electronics giant, Fujitsu. The "TD" in each speakers model designation stands for "Time Domain" technology, which represents a fundamental re-engineering of speaker design, both in terms of form and function, and which is intended to maintain the time and phase integrity of the source recording and to have no acoustic signature itself.
Fundamental to TD technology is the use of a single, high-precision driver, housed in a egg-shaped rear-vented enclosure made of rigid material with the strength and density of marble. The driver is designed to "float" within the enclosure.
Since their introduction, Eclipse speakers have swept the music industry, becoming the speakers of choice for many professionals, including musician/record producer Brian Eno, guitarist John Williams, and composer Michael Nyman.
Price shown is for a pair of speakers, including stands. Please note: this model can only be used with its stand as an integral floorstanding unit. The stand cannot be used with other speakers, including the Eclipse TD510 Mk 2.
Available in white or black. LIMITED AVAILABILITY.
With an amplifier of at least moderate power, Eclipse speakers present music with transparency, unprecedented clarity, unaffected by resonances, colorations or time and phase distortion effects. Magical.
Press Reviews
"Although these speakers are designed to excel at timing, one of the fringe benefits of the single-driver design is superb image placement, and the TD-510z Mk 2s proved superlative in this respect. They can hang rock-solid stereo images in mid air like ghosts in a Hammer House of Horror movie…. It is uniquely able to chart a course direct to the heart of the music, giving you a unique window into its (and even your) very soul." (David Price, January 2013)
Specs
Driver unit

10 cm

Input resistance (rating/maximum)

25 watts/50 watts

Impedance

6 Ohms

Efficiency/sensitivity

84 dB

Frequency range

42 Hz to 22 kHz (-10 dB)

Dimensions (mm)

384W × 978H × 393D

Weight

19.5 kg (each)