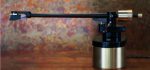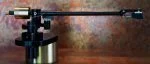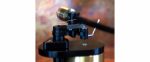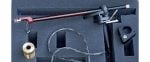 Schröder LT
Product Code: FSA005
From
£9,500.00
ex-vat: £ 7,916.67
The Schröder LT tonearm may look like a conventional pivoted tonearm, but in fact, its pivot is itself pivoted, and shifts position as the stylus moves across the disc. The result is one of the wonders of the analogue world: the stylus moves in an absolutely straight line across the record!
There's zero friction in the vertical direction, and magnetic damping virtually eliminates resonance issues. And because there's no offset angle on the headshell, there's zero side force on the cartridge, rendering anti-skate unnecessary. All set-up parameters can be fine-tuned.
The effective length of the arm is 250 mm; the pivot to spindle mounting distance is 275 mm (to accommodate the additional pivoting bar). The armwands are handmade of either snakewood or grenadill, both treated extensively (a time and labour intensive process) to assure total immunity from changes in humidity or temperature. The headshell is fabricated from a proprietary material that combines stiffness, low mass and high internal damping. Price shown depends on the pound/euro exchange rate at time of order.
Frank's patented technology is the pinnacle of the tonearm maker's art. We'd very much enjoy talking to you about designing your Schröder LT.
The LT manual is quite detailed and long. Please contact us if you wish a copy.
Sorry, this item is a special order.
To purchase, please Contact Us.
Press Reviews
"A pivoted straight-line-tracking tonearm? The description is far less oxymoronic than it seems, given the arrival of the Schröder LT tonearm. This fascinating and apparently very well-executed design works by augmenting the main arm pivot with an extra pivot at the base, the latter said to offer exceptionally low resistance to the arm and cartridge as they follow the inward spiral of the groove. The geometric relationship between the two pivots is such that the headshell—and the cartridge and stylus—maintain perfect tangency to the groove from beginning to end. Thus the headshell requires no offset angle, which also means that no anti-skating force is required. Very cool." (Art Dudley)