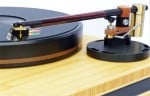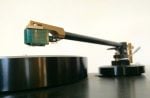 Schröder CB
Product Code: FSA001
£3,850.00 – £5,200.00
ex-vat: £ 3,208.33
The Schröder CB tonearm (a similar design, licensed by Frank, used to be manufactured by Artemis in California, and was known as the TA-1) is a real beauty: with a polished wood or carbon fibre wand and brass counterweight. The pivot is a unique ceramic bearing design with embedded magnets to maintain highly precise, super-low-friction alignment. The two-part counterweight can be fine-tuned for sonic character by tightening or loosening the bottom part, which is bolted to the top. Tracking force, vertical tracking angle, anti-skate (a friction-free magnetic system), azimuth, and even offset angle and overhang are all minutely adjustable. Cryogenically treated high-purity copper cabling is continuous from the cartridge tags to the ultra high quality RCA connectors.
Some options for the CB  (CB stands for "captive bearings") tonearm include:
The CB has an effective length of 239.3 mm; a CB-L (long) version is also available, with an effective length of 282.0 mm.
Wand in carbon fibre or treated wood/composite. Some wood options for the wand include kingwood (a beautifully grained reddish-brown wood), grenadill (a dark hardwood used in the construction of clarinets and other musical instruments), ebony, and other exotic woods.
Headshell can be order in Certal (a proprietary type of aluminium) or a wood matching or contrasting with the tonearm wand.
A Certal cartridge mounting plate is supplied as standard. A brass mounting plate, which increases the effective mass of the tonearm for low-compliance cartridges, can also be supplied.
The sonics are very distinctly Schröder, with the finest details apparent, breathtakingly musical. Quite simply, the CB is among the finest tonearms available. One of our reference components here at Cool Gales.
Price for a carbon-fibre CB tonearm starts from about £4,000.00 (contingent on the euro exchange rate), for a wood version from about £5,250.00.
Sorry, this item is not available for online order.
To purchase, please Contact Us.
Press Reviews
"If you are looking for a tonearm that can hold its head high when placed side by side with the big boys in terms of performance and adjustability, but do not want to endure the long wait time nor to break the bank, the Artemis Lab TA-1 may just be the ticket. It is a fine example of a tonearm which is simple, elegant and sonically exemplary at the same time."