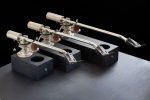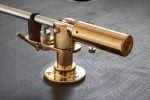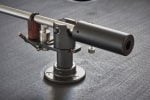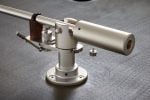 Schick tonearm
Product Code: TSA001
The Thomas Schick tonearm was initially designed as a modern alternative to classic tonearms like the SME 3009 and 3012 for vintage turntables, yet it works equally well with all modern turntables.
At the heart of the Thomas Schick tonearm are near-zero-tolerance ball bearings, which result in a virtually frictionless and utterly quiet tonearm pivot that will offer like-new performance for decades to come. The wiring, of very high-purity copper, is one continuous run from the headshell contact points to the RCA plugs, with an interconnect length of about 1.2 m. A DIN termination version is also available.
All Thomas' tonearms include a nylon-string-and-weight style anti-skate mechanism. No headshell is included. We recommend one of Thomas' own  headshells.
The Thomas Schick tonearm is available in three lengths, 9 inches, 10.5 inches, and 12 inches. Each version is available in different finishes (the tonearm wand and tonearm lift mechanism in each finish are silver): black, gold, and silver.
The Schick tonearm can be used with a wide range range of cartridges. The cartridge compliance value should be below 20 µm/mN ( 22 for the nine inch arm) with a large tolerance, still keeping the resonant frequency in the desired range. The weight of the cartridge should be 5-6 grams or more. Ortofon SPU cartridges are all suitable. Mono cartridges with no vertical compliance at all can also be used. Also, Decca cartridges are compatible.
Special notes for users of Ortofon SPUs. You may need a heavier counterweight. The standard Schick accepts all GM-style Ortofon SPUs. By special request, we can supply a unit that accepts A-style Ortofon SPUs, the stubby, square style SPUs, whose geometry requires a different offset angle.
The Thomas Schick is one of our reference tonearms here at Cool Gales, providing, to our ears, an ideal blend of the detail and frequency extremes of very much higher-priced modern tonearms with the purity of tone and emotion of classic vintage tonearms.
This is a special order item, with a delivery time of around one to four months. Please contact us for current pricing and delivery time.
Sorry, this item is not available for online order.
To purchase, please Contact Us.
Press Reviews
"Orchestral music sounded just as big and substantial with the Schick tonearm in my system as with the EMT 997, and with LPs and 78s alike…. Records also sounded smoother, less grainy. And notes in the lowest two octaves were, for want of a better word, juicier: not necessarily weightier, but more colorful and more present…. For veteran listeners, the question is no longer Will this stand alongside my other, more expensive tonearms? but, rather, Do I really need more than this?" (Art Dudley, March 2010)