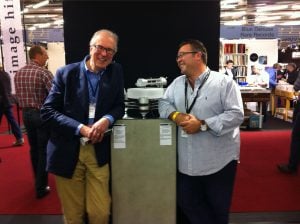 Forget the boring designs of traditional turntables, with their fiddly springs and square angles. Clearaudio creates turntables for the 21st century, focal points for the modern home, ranging from superb mid-range units to the ultra high-end. Every Clearaudio turntable is a visual, as well as a sonic delight.
Clearaudio is the only full-range manufacturer of vinyl playback equipment, offering high-end turntables, phono cartridges, tonearms (both pivoted and linear), phono stages, record cleaning machines, and a wide range of accessories. Clearaudio's range is huge, and always innovative and growing. Clearaudio (including the Clearaudio Concept range) products invariably attract rave reviews and awards, frequently appear on audio journals' lists of recommended products, and are often used by reviewers as reference components. If you're interested in a Clearaudio product not listed, please don't hesitate to contact us. We'd be delighted to order it for you.
We're proud to be a long-term reference Clearaudio retailer.
No products were found matching your selection.