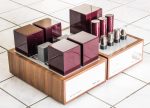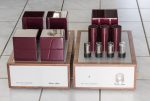 Thomas Mayer LCR D3a
Product Code: TMP003
The Thomas Mayer LCR D3a phono stage is based on the D3a frame grid pentode (used in triode mode), a relatively modern valve designed originally for use in telecommunications. The power supply uses 6AX4 valves for rectification. As with all of Thomas' components, the LCR D3a phono stage is supplied with new old stock (NOS) valves. Point-to-point hand-wired, of course, using the finest internal components.
The LCR topology, which uses passive components, inductors (L), capacitors (C), and resistors (R), to implement RIAA equalisation between the active gains stages, is a time-honoured, but costly design, resulting in a rich, pure, and dynamic sound, with an utterly silent background. The D3a design, according to Thomas, "reaches at least 90-95%" of the performance of his top-of-the-range design, based on the extremely rare EC8020 valve.
Various versions of the LCR D3a can be ordered: moving-magnet only, low-output moving-coil only, and a low-output moving coil design using silver-wire step-up transformers. Other features, such as wood chassis surround and high-gloss transformer covers, can be customised. Thomas enjoys planning the details of specific designs with customers.
Delivery time about six months. A version like our demo unit (pictured), which includes silver-wired step-up transformers, is around £15,000.
A masterpiece, more a work of art than an hi-fi component. A must for anyone seeking the very finest in vinyl playback.
Sorry, this item is not available for online order.
To purchase, please Contact Us.