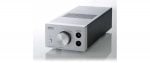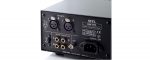 Stax SRM-353X
Product Code: SXS024
ex-vat: £ 829.17
The Stax SRM-353X Energiser is Stax's mid-range amplifier for use with its range of electrostatic Earspeakers. It is a direct-coupled solid-state class A design. Available with silver faceplate only.
The SRM-353SX is also available as part of the SRS-5100 system.
Please note: like all Stax Energisers, the SRM-252S must be used with a Stax Earspeaker. It cannot be used with standard headphones.
This is a special-order item, usually with a delivery time of around four to six weeks.
Sorry, this item is not available for online order.
To purchase, please Contact Us.
Specs
Frequency response

7 - 41,000Hz

Rated input level

100 mV with 100 V output

Max input level

30 V rms with volume at minimum setting

Gain

60 dB

THD

max 0.01% (1 kHz/100 V rms output)

Input impedance

50 kOhms

Max output voltage

400 V rms/1 kHz

Dimensions (mm)

150W x 100H x 360D, excluding knob and jack

Weight

3 kg