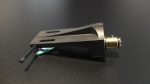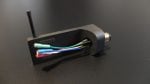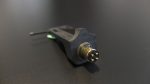 Schick Graphite Headshell
Product Code: TSY002G
£220.00
ex-vat: £ 183.33
The Thomas Schick Graphite Headshell works perfectly (of course) with Thomas' own tonearms, and also with any tonearm with a standard bayonet headshell connection, like classic SME 3009 and 3012 tonearms. It's made of a high-density graphite, treated with oil, then dried, resulting in an extremely rigid, resonance-free unit. A perfect match for the very best high-end cartridges.
Thomas himself declines to characterise the sonic qualities of his various headshells, explaining that much depends on the cartridge used, and that the different headshell weights allow them to be matched with cartridges with different compliance specifications. The graphite headshell, at 16.8 g, is the heavyweight of the range. Weights of the three different Schick headshells, including headshell cables, are:
| | |
| --- | --- |
| Material | Weight (g) |
| Bubinga wood | 10.8 |
| Resin | 15.4 |
| Graphite | 16.8 |
Please note that graphite is a fragile material, and must be handled with care. When mounting a cartridge, we strongly recommend using washers with the bolts, and tightening each bolt a little at a time, so that the bolts are tightened evenly. Excessive tightening will cause the graphite headshell to crack, making it unusable.
In stock