Sale!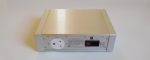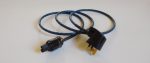 Quantum Qx4 (ex-dem)
Product Code: NOE102
£ 2,000.00
ex-vat: £ 745.83
This demonstrator Quantum Resonant Technologies Qx4 includes a Quantum 2 metre power cord (UK termination). The power cord on its own retailed for £500.00, so this Quantum package is an extraordinary bargain. Yes, this is the current spec Qx4.
The unit is in very good condition, with a few small surface scuff marks, nothing noticeable from a listening position. Of course, it works perfectly.
The Qx4 is one of the very few really effective mains conditioners we've ever tried here at Cool Gales. According to Nordost (owners of Quantum),
Each QX unit contains QRT field generators (two in the QX2, four in the twice as powerful QX4) that alleviate the impact of poor quality AC power on your sensitive electronics, limiting RFI and timing errors. Place your QX unit(s) at the heart of your system and you'll hear a lower noise floor, greater dynamic range, more fluid musical expression and greater space and ambience. QX units allow you to hear more of your music (and less of your system).
Only 1 left in stock
Sorry, this item has been sold.
Press Reviews
"With the Quantum units in play the bass was noticeably tighter and more defined, its edges less blurred and giving the music a more coherent sense of drive, sounding more of a piece. With the units switched off, Ms. Krall's voice seemed flatter by comparison, not in pitch but in dynamics. Her voice wasn't louder, rather the difference between loud and soft was more distinct; the soft becoming softer and more fully resolved. It seemed that the noise floor had been lowered allowing each note to fully decay into silence."