Sale!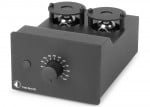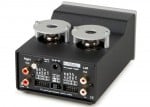 Pro-Ject Tube Box DS
Product Code: PRP015-S
£ 399.00
ex-vat: £ 282.50
Stock clearance special! Save £60.00! One only at this price.
We have one Pro-Ject Tube Box DS in black finish, new and unused. For more info about the Tube Box DS, click here.
Out of stock
Sorry, this item has been sold.
Press Reviews
FIVE STARS! "While the Pro-Ject certainly lets its valves cast their analogue spell on the music, it becomes obvious quite quickly that it has been engineered to retain certain nuances that you'd also attribute to solid-state designs…. the slightly warm tonality it brings to the music across both of its MM and MC circuits makes for an equally inviting listen….the DS ensures these higher notes are wrapped in silky textures to prevent them from becoming sibilant or grainy, which makes the music sound all the more natural."
FIVE GLOBES! "The Pro-Ject Tube Box DS seems to be one of those products that gently persuades the listener that its way is the right way…. I could perhaps criticise it for having a warmish tonal balance and slightly softened extreme high frequencies, but that would miss the point if its innate musicality and convincing presentation of music…. I found it hugely enjoyable to listen to regardless of the genre, age or condition of what I played through it."
Specs
Tubes

2 x ECC83 (12AX 7A)

Input Impedance

Stepless 10? - 1,000?

Input Capacitance / Impedance: Â 

47, 147, 267 and 367pF 47k?

Input Gain: Â 

MM - 40, 50dB MC - 60dB

Noise Floor

82dB (93dB - IEC - A)

THD

< 0.1%

De-Emphasis Curves Accuracy

20Hz - 20kHz / Max. 0.5dB

Subsonic Filter

@ 20Hz with 18dB/Octave

Input

1 Pair RCA / Phono Sockets 

Output

1 Pair RCA / Phono Sockets

Outboard PSU

18V / 1,000mA DC

Power Consumption

490mA DC

Dimensions (W x H x D): Â 

103 x 72 x 144mm 103 x 72 x 156mm (Incl. Sockets)

Weight

1.1Kg (without PSU)