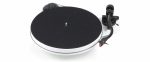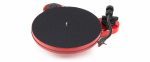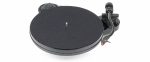 Pro-Ject RPM 1 Carbon
Product Code: PRT053
ex-vat: £ 290.83
The Pro-Ject RPM 1 Carbon offers significant technological improvements over its predecessor, the Genie. The new tonearm is a carbon fibre/aluminium resin construct, made using special heat and pressure treatments, with a new magnetic anti-skate mechanism and an improved counterweight with TPE damping. An Ortofon 2m Red cartridge is factory-mounted.
The completely decoupled motor is powered by an AC generator that's connected to the new DC power supply. The inverted main bearing now utilises a ceramic ball, offering a more fluid and consistent platter rotation than ever before.
Available in red, white or black high gloss finishes, the RPM 1 Carbon is a turntable package with a phenomenal price/performance ratio.
Press Reviews
"The RPM1 Carbon is a good budget package. Coming with a full set of accessories, a competent budget cartridge with a forward, modern sound… It will easily cope with cartridge upgrades and is tweak-able too, so the best can be had from such upgrades. At a low price, this is a fine way for beginners to spin LP.
"A good budget turntable package, with a clean, fast sound that is forward and gripping."
"Vocal growls in the recording are perfectly projected in front of the soundstage, demonstrating the genuine threedimensionality of the performance that is so well rendered by the Pro-Ject and has many of the characteristics of the company's more expensive turntable packages, which is quite an achievement."
Specs
Speed

33, 45 RPM (Manual Speed Change)

Drive Principle

Belt drive

Platter

1.6kg / 300mm

Wow & Flutter

± 0.13%

Speed Drift

± 0.19%

Signal to Noise

-70dB

Pre-Fitted Cartridge

Ortofon 2M Red

Tonearm

S-Shaped

Effective Arm Length

218.5 mm

Effective Arm Mass

13.5 g

Overhang

22 mm

Tracking Force

0 - 25 mN

Dimensions (WxHxD)

380 x 110 x 350 mm

Weight

3.8 kg