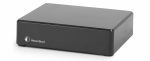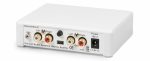 Pro-Ject Record Box E
Product Code: PRP017
ex-vat: £ 62.46
The Pro-Ject Record Box E is a high quality phono stage with a USB output so you can record your vinyl to your computer in high definition. This introductory level phono stage is designed specifically to amplify your moving magnet or moving coil cartridge output to line level. The form factor of the unit is small and subtle, so it can be placed near your turntable or amplifier without being intrusive.
Key Features:
Amplification and RIAA equalisation for MM & MC
Digitalisation of vinyl for recording direct to USB with suitable recording programs
Automatic recognition, no additional drivers needed
Runs on Windows® and Mac OS® operating systems
SMD circuitry with special low noise components
Internal metal shielding
Small size allows installation close to record player
Gold plated RCA connection sockets
Outboard power supply included
Black or white casing
You will need a set of interconnects to connect this unit to your amplifier.