Sale!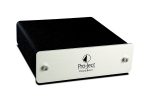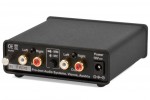 Pro-Ject Phono Box II
Product Code: PRP007
£ 89.00
ex-vat: £ 40.83
Stock clearance special! Save £40.00! One only at this price. Silver finish.
The Pro-Ject Phono Box II is a superb basic phono stage, designed to work with both moving-magnet and low-output moving-coil cartridges.
Key features of the Phono Box are:
Metal case shields the electronics from vibrational and electromagnetic interference
Optimal channel separation through dual-mono circuitry
Special low-noise ICs used
Gold plated RCA connection sockets
Outboard power supply included
Amplification and RIAA equalisation for MM and MC cartridges
Phono MM/MC selection switch located at the rear of the unit
Small size allows installation close to other components
Factory sealed box with full warranty.
You will need a set of interconnects to connect this unit to your amplifier.
Only 1 left in stock
Press Reviews
"What they have in spades is excitement…they simply sizzle and simmer with hard rock…apply silkiness to female vocals…. the sound is as inviting as a much dearer valve phono amp. The Pro-jects aren't the most expensive, but they may be the most complete."
Specs
Input Impedance: Â 

MM - 47k? / 120pF MC - 100? / 120pF

Gain: Â 

MM - 40dB MC - 60dB

Output Voltage Typically: Â 

MM - 300mV @ 1kHz - 3mV MC - 0.3mV

Maximum Output

9.5V (1kHz)

Noise Floor: Â 

MM - 86dB (94dB - A weighted) MC - 68dB (75dB - A weighted)

THD: Â 

MM - 0.01% MC - 0.05%

RIAA Equalisation Curve Accuracy

20Hz - 20kHz / max. 0.5dB

Input

1 Pair RCA Phono Sockets

Line-Level Output

1 Pair RCA Phono Sockets

Outboard Power Supply

18V/500mA DC

PSU

18V/500mA DC

Dimensions (W x H x D): Â 

103 x 36 x 104mm 103 x 36 x 115mm (Incl. Sockets)

Weight

570g (Without Power Supply)