Sale!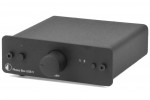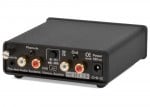 Pro-Ject Phono Box USB V
Product Code: PRP008
£ 139.00
ex-vat: £ 74.17
Stock clearance special! Save £50.00! One only at this price. Black finish.
The Pro-Ject Phono Box USB V is a superb basic phono stage with an integral USB output, to allow digital recording of your viny to a computer or laptop.
Designed to work with both moving-magnet and low-output moving-coil cartridges. A knob on the front of the unit allows for full control over the volume of your USB signal to avoid distortion and/or "clipping". The unit also features a line input, allowing you to record from line-level sources, such as a tape deck, as well.
Key features of the Phono Box USB V are:
Metal case shields the electronics from vibrational and electromagnetic interference.
Small size allows installation close to record player.
Special low-noise ICs used.
Optimal channel separation through dual-mono circuitry.
Gold plated RCA connection sockets.
Outboard power supply included.
Amplification and RIAA equalisation for MM and MC cartridges.
Digitalisation of analog signals for recording direct to disk via USB with suitable recording programs.
Automatic recognition, without additional driver, by standard PC.
Runs on Windows® and Mac OS® operating systems.
Phono MM/MC selection switch located at the rear of the unit.
Factory sealed box with full warranty.
You will need a set of interconnects to connect this unit to your amplifier.
Out of stock
Sorry, this item has been sold.
Specs
Input Impedance: Â 

MM - 47k? / 120pF MC - 100? / 120pF

Gain: Â 

MM - 40dB MC - 60dB

Output Voltage Typically: Â 

300mV / 1kHz @ 3mV / 1kHz (MM Input) 300mV / 1kHz @ 0.3mV / 1kHz (MC Input)

Gain (Line Input)

11dB

Max. Output

9.5V (1kHz)

Noise Floor: Â 

MM - 86dB (94dB - A Weighted) MC - 68dB (75dB - A Weighted)

THD: Â 

MM - 0.01% MC - 0.05%

RIAA Equalisation Curve Accuracy

20Hz - 20kHz / max. 0.5dB

A/D Converter: Â 

Burr Brown PCM2904 16-Bit Delta Sigma

Sampling Rates

32, 44.1 and 48kHz

USB Output

Digital Serial Data Protocol USB 1.1

Operating Systems: Â 

Windows XP, Vista, 7 Mac OS

Inputs: Â 

Phono - 1 Pair RCA Phono Sockets Line - 3-Pole 3.5mm Coaxial Jack

Output

1 Pair RCA Phono Sockets

THD

0.005%

Noise Floor

96dB

Dynamic Range

93dB

Outboard Power Supply

18V/500mA DC

Power Consumption

100mA DC

Dimensions (WxHxD): Â 

103 x 36 x 104mm 103 x 36 x 115mm (Including Sockets)

Weight

580g (Without Power Supply)