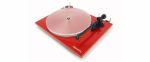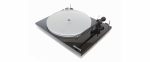 Pro-Ject Essential III A
Product Code: PRC043A
ex-vat: £ 232.50
The Pro-ject Essential III A is effectively an Essential III with an upgraded frosted acrylic Acryl-IT E platter. Available for use with and without the supplied felt mat, the platter uses a stainless steel bearing in a bronze bushing with Teflon-lined bottom.
The Essential III A has a new integrated grounding link that dramatically reduces electrical interference, a built-in signal generator to ensure optimal speed stability and minimal resonances, and a new aluminium pulley among the improvements. It's pre-fitted with an 8.6" aluminium tonearm with sapphire bearings, with an Ortofon OM 10 cartridge factory installed.
Available in high gloss black, red, and white.
Please note: you'll need a phono stage to use the Essential III A.
Specs
Speed

33/45 RPM 

Speed Variance

±0.70% (33.3 rpm) / ±0.60% (45 rpm)

Wow & Flutter

±0.21% (33 rpm) / ±0.19% (45 rpm)

Effective Tonearm Length

8.6" (218.5 mm)

Effective Tonearm Mass

8.0 gr

Overhang

22.0 mm

Pre-fitted cartridge

Ortofon OM 10

Power Consumption

4.5 W

Dimensions (W x H x D)

420 x 112 x 330 mm

Weight

5 kg