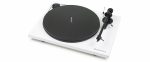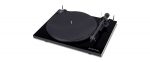 Pro-Ject Essential II Digital
Product Code: PRT043D
ex-vat: £ 257.50
The Pro-ject Essential II Digital adds a high-quality integral phono stage to an already superb budget turntable, giving users the option of an analogue line level output or a 24-bit/96kHz digital optical output. The optical output uses a high-quality Analogue-Digital Converter (ADC) to send a clean, uninterrupted signal to any digital hub; the analogue output uses a phono stage based upon Pro-Ject's iconic Phono Box design.
The Essential II Digital is pre-fitted with an 8.6" aluminium tonearm with sapphire bearings, with an Ortofon OM 5e cartridge factory installed. Dustcover and felt mat included.
Available in high gloss black or white.
Press Reviews
BEST TURNTABLE 2015! "The sound was big bodied, fluid and dynamic. It was larger chested than most budget turntables in fact, giving me a big expansive sound stage with plenty of apparent depth and real power. The Pro-Ject Essential II Digital is quite an amazing package. It gave great results, having lush sound quality from its analogue output that I found thoroughly enjoyable and entirely in keeping with expectations from LP."
"I must confess that I anticipate a slight degradation in sound quality due to the additional signal processing required, but in fact I can't detect and discernible difference in quality compared with the line output.
"The Pro-Ject Essential II Digital turntable punches well above its price point."
"It's well-organised and enthusiastic performance that rarely gets flustered, even with more demanding recordings."
Specs
Speed

33/45 RPM 

Speed Variance

0.12%

Wow & Flutter

33: 0.14% 45: 0.25%

Effective Tonearm Length

8.6" (218.5 mm)

Effective Tonearm Mass

8.0 gr

Overhang

22.0 mm

Pre-fitted cartridge

Ortofon OM 5e

Power Consumption

4.5 W

Dimensions (W x H x D)

420 x 112 x 330 mm

Weight

4 kg