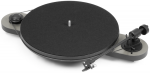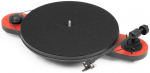 Pro-Ject Elemental Phono USB
Product Code: PRT031
ex-vat: £ 190.83
The Pro-ject Elemental Phono USB is a "plug'n'play" turntable. Tracking force and anti-skating are both are pre-adjusted. This new straight ultra low mass tonearm is optimised for the Ortofon OM cartridge series. The platter has a central gravity mass point, made from artificial stone, and placed directly underneath the platter bearing to absorb unwanted rumble and motor vibration. It even has a built-in phono stage, so you can connect it to most amplifiers, and an analogue-to-digital converter and a USB output for recording your vinyl to your computer.
All you'll have to do is remove it from the box, remove bearing guard, locate the belt around the platter, remove stylus guard, plug it in, and start playing records!
The Elemental Phono USB is available in silver, red, and white.
Press Reviews
"How does the Elemental Perform? Once settled, it delivers a surprisingly capable sound. The deck has a tidy presentation – one that delivers good amount of insight alongside a surefooted rhythmic structure." "Play Bob Marley's Stir it up and this Pro-Ject delivers a convincing sound with a nicely agile bassline and well proportioned vocals. There's plenty of detail in Marley's voice, and enough subtlety to make us forget we're listening to an entry-level deck." "We're pleased with the player's fluid way with dynamics and its ability to tie instrumental strands together to form a well-organised whole." "Those who want a good-quality record player at an entry-level price should start here. They won't be disappointed."
Specs
Speed

33/45 RPM

Speed Variance

33: 0.2% 45: 0.18%

Wow & Flutter

33: 0.14% 45: 0.13%

Effective Tonearm Length

8.6" (218.5 mm)

Effective Tonearm Mass

8.0 gr

Overhang

22.0 mm

Tracking Force Range

0 - 30 mn

Power Consumption

5W

Dimensions (W x H x D)

430 x 90 x 330 mm

Weight

2.75 kg