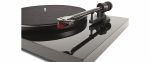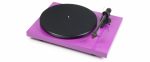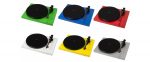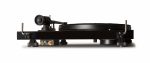 Pro-Ject Debut Carbon
Product Code: PRT035
ex-vat: £ 290.83
The Pro-Ject Debut Carbon is one of Pro-Ject's iconic decks. It features an 8.6 inch carbon fibre tonearm, a 12 inch platter, a rear-mounted junction box, and a new motor isolation system with a unique rubber compound for dramatically reduced resonance transference from the high-quality 230V motor.
Key features include
8.6 inch one-piece carbon fibre tonearm.
High-quality counterweight.
Two isolation 'feet' to decouple the motor from the plinth.
12 inch platter.
Junction box installed, allowing for the easy upgrade of turntable interconnects.
New power supply.
Factory-fitted Ortofon 2M Red.
Various high-gloss finishes available.
Hinged dustcover included.
Please note: you'll need a phono stage to use the Debut Carbon. Also, this model will not work with the Pro-Ject Speed Box. Speed change is operated manually, or electronically via the Speed Box S/E.
Press Reviews
"The Debut delivers an impressively clean and insightful sound, one that digs deep while keeping a firm hold of the overall musical structure. It's not just clinical reproduction though – we're taken with the Pro-ject's expressive nature, too. Move on to the likes of Holst's Planet Suite and the Debut Carbon continues to impress with high detail levels, relatively wide dynamics and a pleasing subtlety. Put it all together and you have a product that sounds at home on all types of music and that, for the money, is generally well built."
"With its full-size platter and smart-looking arm, the Debut in Carbon form does offer an uplift in performance in return for a modest price increase, and certainly gets quite striking results from the gutsy-sounding Ortofon 2M Red cartridge."
"In action, the Debut Carbon really surprised with its ability to reproduce the tone of voice and instruments in all the music I used. Yet the Pro-Ject skilfully avoids any of the many traps set by the LP format; budget decks can often sound speed-unstable or edgy and the Debut does not. For the money, it's an essential audition."
"Whether for first-time turntable buyers or anyone wishing to enjoy high-quality LP playback without spending a lot of money, Pro-Ject's Debut Carbon is a great way to go."
Specs
Speed

33, 45 RPM (Manual Speed Change)

Drive Principle

Belt drive

Platter

300 mm metal with felt mat

Main Bearing

Stainless steel

Wow & Flutter

+/- 0.10%

Speed Drift

+/- 0.80%

Signal to Noise

- 68 dB

Pre-Fitted Cartridge

Ortofon 2M Red

Tonearm

8.6 inch carbon fibre

Effective Arm Length

218.5 mm

Effective Arm Mass

6.0 g

Overhang

18.5 mm

Tracking Force

10-30 mN

Included Accessories

RCA cable, lid

Dimensions (WxHxD)

415 x 118 x 320 mm

Weight

5.6 kg