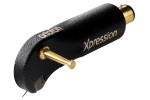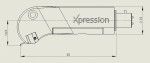 Ortofon Xpression
Product Code: ORC049
£4,250.00
ex-vat: £ 3,541.67
The Ortofon Xpression bridges the gap between SPU-type cartridges and high-end cartridges that are designed for headshell mounting. The result is a high-performance moving coil cartridge with the convenience of a standard headshell connector. The length of the cartridge ensures a proper match with SME-mount type tonearms, while the mass and compliance properties of the Xpression ensure that a proper match will be achieved with any SPU-compatible arm.
The cartridge body is made of stainless steel, using Ortofon's Selective Laser Melting process, resulting in extremely high internal damping. Internally, ultra-high-purity silver wiring is used between the generator and headshell connector. The magnet system is based on an extremely strong, compact neodymium magnet, yielding a light, compact generator system. Ortofon's Field Stabilizing Element (FSE), a small cylinder of conductive material strategically placed inside the magnet system improves the channel separation, while at the same time minimizing dynamic distortion and intermodulation. The Xpression features a boron cantilever and Ortofon's Replicant 100 diamond.
The resulting masterpiece is a superb sonic balance between the literal precision of the the finest high-end cartridges, and the powerful dynamics and tonality of SPUs.
Sorry, this item is not available for online order.
To purchase, please Contact Us.
Press Reviews
"In terms of design, though, the mounting method is all that the Xpression shares with the SPU as the technology contained within its sleek body is most definitely bang up to date…. Once again, Ortofon have not endowed the Xpression with any artifice or peculiarly boosted frequency response and the result is a cartridge that simply tells it like it is across the frequency range, but somehow seems to just do it more effortlessly than ever before."
Specs
Output Voltage (at 1kHz, 5cm/sec)

0.3mV

Channel Balance at 1kHz

< 0.2dB

Channel Separation at 1kHz

> 28dB

Channel Separation at 15kHz

> 22dB

Frequency Range (at -3dB)

10Hz - 60kHz

20Hz - 20kHz FIM Distortion

+0.5 / -1.5dB

Tracking Ability at 315Hz

Typically 90?m

Compliance, Dynamic, Lateral

11?m / mN

Stylus Type: Â 

Nude Ortofon Replicant 100 Special Polished Version

Cantilever

Boron

Stylus Tip Radius r / R

5 / 100?m

Tracking Force Range

2.3 - 2.8g (23 - 28mN)

Recommended Tracking Force

2.6g (26mN)

Tracking Angle

23º

Internal Impedance / DC Resistance

4?

Recommended Load Impedance

> 10?

Cartridge Body Material: Â 

SLM Stainless Steel And Special Proprietary TPE Compound

Cartridge Colour

Black / Black

Cartridge Weight

13.0g