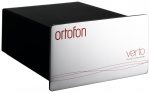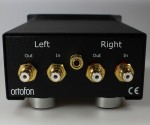 Ortofon Verto
Product Code: ORY010
£ 775.00
ex-vat: £ 645.83
The Ortofon Verto step-up transformer features internal jumpers with two gain/impedance options, making it compatible with most low-output moving-coil cartridges. See specifications section for details.
Other features include dual mono design, high quality industrial grade PCB, gold plated RCA jacks with Teflon insulation, and an absolute bare minimum of internal wiring for a clear signal path.
This is a special-order item, with a delivery time of about two weeks.
Download the product brochure, including specifications.