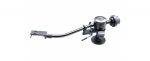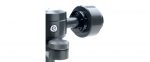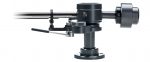 Ortofon TA-110
Product Code: ORA003
£ 1,150.00
ex-vat: £ 958.33
The Ortofon TA-110 is a static balance gimbal type arm, easy to adjust for optimal VTF settings, terminated with a standard 5-pin DIN connector. It features a precision-machined slit in the middle of the aluminium tube, filled with special vibration damping rubber for optimal damping.
The tonearm is supplied with an LH-2000E headshell and 6NX-TSW-1010 tonearm cables, a standard counterweight and an extra mass ring for heavier cartridges. You will need a tonearm cable with a 5-pin DIN connector at the tonearm end.
Download the product brochure.
Press Reviews
"Bass is well controlled and provides a solid foundation to the music, and the highs are smooth without becoming overly aggressive.
The TA-110 is a welcome addition to the 'arms race, leveraging Ortofon's experience in technical rubber and vibration management into an affordable separate tonearm that controls and dampens spurious vibrations quite effectively. These innovations produce a highly musical, natural, and pure sound that is surprising in this price class. If you prefer to 'set-and- forge'" your tonearm, you can save a bundle, get soul-satisfying performance, and come closer to the music than you might expect."
"The revised TA-110 sounds colourful and open, with rich bass and deliciously sweet, delicate treble."
"As soon as stylus hit groove, I was surprised and pleased to hear that the TA-110 took musical performances to a notably higher level. It sounds like a very well developed design in the way in which it simply cuts through the grain and mushy present in poor pressings and recordings to really cut to the chase and deliver the goods."
Specs
Effective Mass (w/out Headshell)

3.5 g

Mass of Supplied Headshell

15.5 g

Effective Armlength (Stylus - Pivot Point)

231.0 mm

Mounting Distance (Pivot Point - Turntable Centre)

213.0 mm

Offset Angle

23.9º

Overhang

18.0 mm

Tracking Force Adjusting Range

0 - 3 g

Height Adjustment Range

35 - 55 mm

Armbase Mounting Hole Diameter

19 - 20 mm

Diameter of the Tonearm Centre Shaft

18.0 mm

TA-110 Total Weight (Incl. Headshell)

470 g