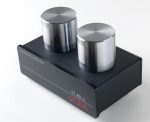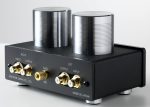 Ortofon ST-80 SE
Product Code: ORY011
£1,400.00
ex-vat: £ 1,166.67
The Ortofon ST-80 SE step-up transformer is a high-end unit designed to work with most low-output moving-coil cartridges with a low internal impedance (10 Ohms or less), such as the Ortofon Cadenza series, the MC Winfeld, the MC Anna, the Xpression, and of course, many non-Ortofon MC models.
The transformer is magnetically shielded in a permalloy case, which in turn is inserted into a robust 10mm thick aluminum cylinder bored out of a solid aluminum block.The transformer is substantial, weighing 1.5 kg, ensuring it stays in place even when cables are attached. The ST-80 SE is built as a pure dual mono model, which ensures maximum channel separation. Internal point-to-point wiring is made by Teflon-insulated, solid-core pure OFC copper-wire plated with gold. Together with high quality gold plated RCA jacks with Teflon insulation that ensures the optimum signal transmission and integrity.
This is a special-order item, with a delivery time of about two weeks.
Specs
Recommended cartridge impedance

< 10 Ohms

Gain @ 1kHz

27 dB

Frequency response

10Hz - 100kHz (-2.5dB +0.5dB)

Recommended load

47 kOhms / 200 pF

Dimensions

95 x 153 x 100 mm

Weight

1.5 kg