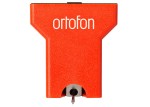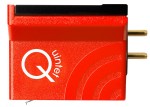 Ortofon Quintet Red
Product Code: ORC042
£269.00
ex-vat: £ 224.17
The Ortofon Quintet series offers vinylphiles the sonics of low-output moving-coil cartridges at a budget price. The Ortofon Quintet Red features an elliptical diamond stylus, delivering an open, dynamic sound with a slight touch of warmth.
Other features, common to all Quintet series cartridges, are
Cartridge body made of a special ABS material.
Neodymium magnets for an optimal output.
Low internal impedance for less sensitivity to load, ensuring compatibility with the widest range of preamps and step-up transformers.
Press Reviews
"The Red does a more than respectable job of living up to the values that fans of moving coils have come to expect. It's damn responsive, rhythmically lively, and especially light on its feet in transient response. Imaging is stable, and soundstage cues and overall dimensionality are well defined….The Red tracked very well and reproduced a soundstage that stretched from edge to edge. It's a slam-dunk for any thoughtful starter system."
Specs
Output Voltage (at 1kHz, 5cm/sec)

0.5mV

Channel Balance at 1kHz

<1.5dB

Channel Separation at 1kHz

>21dB

Channel Separation at 15kHz

>14dB

Frequency Range (at -3dB)

20 Hz - 25 kHz

Frequency Response 20Hz - 20kHz

± 2.5dB

Tracking Ability at 315Hz

65?m

Compliance, Dynamic, Lateral

15?m / mN

Stylus Type

Elliptical

Stylus Tip Radius r / R

6 / 50?m

Tracking Force Range

2.1 - 2.5g (21 - 25mN)

Recommended Tracking Force

2.3g (23mN)

Tracking Angle

20º

Internal Impedance / DC Resistance

7?

Recommended Load Impedance

>20?

Cartridge Body Material

ABS/Alu.

Cartridge Colour

Red

Cartridge Weight

9g