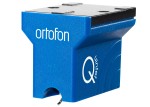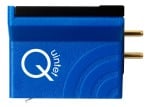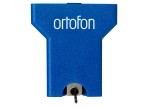 Ortofon Quintet Blue
Product Code: ORC043
£359.00
ex-vat: £ 299.17
The Ortofon Quintet series offers vinylphiles the sonics of low-output moving-coil cartridges at a budget price. The Ortofon Quintet Blue features a nude elliptical diamond stylus, whose sound image will tend to more smooth reproduction compared to Quintet Red and moderate dynamic strength compared to Quintet Bronze.
Other features, common to all Quintet series cartridges, are
Cartridge body made of a special ABS material.
Neodymium magnets for an optimal output.
Low internal impedance for less sensitivity to load, ensuring compatibility with the widest range of preamps and step-up transformers.
Press Reviews
"You'll be very hard-pressed to find a better alternative that's as well balanced across the board as the Blue. This pick-up offers a sound that's both refined and yet bags of fun, guaranteeing its place as a fantastic all-rounder for those wanting a quality moving coil on a budget."
"Bass is well articulated and evenly presented without being overly emphasised or rolling off too early, making its presence and detail felt without becoming overwhelming on more demanding bass-heavy music…. Fantastic sounding mid-price MC that does everything right."
Specs
Output Voltage (at 1kHz, 5cm/sec)

0.5mV

Channel Balance at 1kHz

<1.5dB

Channel Separation at 1kHz

>21dB

Channel Separation at 15kHz

>14dB

Frequency Range (at -3dB)

20 Hz - 25 kHz

Frequency Response 20Hz - 20kHz

± 2.5dB

Tracking Ability at 315Hz

70?m

Compliance, Dynamic, Lateral

15?m / mN

Stylus Type

Nude Elliptical

Stylus Tip Radius r / R

8 / 18?m

Tracking Force Range

2.1 - 2.5g (21 - 25mN)

Recommended Tracking Force

2.3g (23mN)

Tracking Angle

20º

Internal Impedance / DC Resistance

7?

Recommended Load Impedance

>20?

Cartridge Body Material

ABS/Alu.

Cartridge Colour

Blue

Cartridge Weight

9g