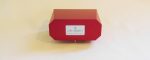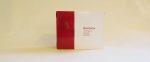 Lyra Erodion (ex-dem)
Product Code: LYY002
£2,995.00
ex-vat: £ 2,495.83
We're reluctantly offering for sale our Lyra Erodion step-up transformer, now discontinued. Our unit, serial number 55, is in as-new condition, with all original packaging and documentation.
The Erodion is a no-compromise step-up transformer, designed to perform with Lyra and other cartridges with internal impedances of between 2 and 10 Ohms, although we've used it successfully with cartridges with internal impedances just under 2 Ohms (Lyra Atlas SL) and just over 10 Ohms (Denon DL-103R).
With a gain of 26 dB, the Erodion boosts the output of low-output, low-impedance moving-coil cartridges up to the standard 10 kOhms to 47 kOhms moving-magnet phono inputs of preamplifiers and phono stages. It performs virtually as a "straight wire with gain", with zero colouration. When used with valve-based phono stages, it hugely reduces noise and "tube rush".
Long one of our reference accessories here at Cool Gales. An indispensable addition for the finest analogue systems.
Sorry, this item has been sold.