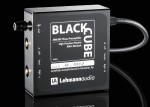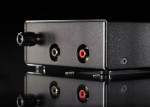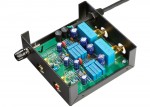 Lehmann Black Cube
Product Code: LMP002
£ 395.00
ex-vat: £ 329.17
The Lehmann Black Cube is actually an updated version of Lehmann's original Black Cube, which achieved cult status among audiophiles after its launch in 1995.
The new Black Cube was designed with a completely upgraded circuit board, with new capacitors, new input stages, a cleaner power supply circuit, and even dual-mono output stages.
It features switch settings for both moving-magnet and low-output moving-coil cartridges, with an on-board slot for fitting custom resistors to match any exotic moving coil. Its small size means it can be placed near or beneath a turntable, making possible the use of very short interconnects for minimal signal loss.
The internet established the reputation of Lehmann phono stages, with hi-fi magazines only recently catching on. As a result, Lehmann gear has an astonishing performance-to-price ratio. The updated Black Cube continues the legend.
Press Reviews
"As soon as the needle hits the groove I can hear that the Lehmannaudio is able to conjure an expansive and open soundstage. But it's not just the size of the sonic landscape it paints which is of merit, where its strengths also lie is in how it lets instruments and voices work together as a cohesive whole, which really brings the music to life. I can hear how this technique subtly reveals each voice to complement the other as the Black Cube brings their unique tonalities to life, more so than any of the other phono preamps in this roundup."
"If detailing is your thing then this Lehmann has it in spades, and the subtleties in the complex Motown production of Dancing In The Street really stand out. What you get from the Black Cube is a snappy, punchy performance that's exciting and cohesive. Timing is spot on, and music has that foot-tapping quality that makes you want to keep listening."
"The Black Cube, though still a new kid in the block, can be easily considered a 'classic', a challenge for every hi-fi manufacturer. It was extremely good, it has been bettered in some area, not an easy task. It has lost some of its brutal energy in the bass during the process but it is still one of the best phono preamps into its price range and above. Any serious analogue-addict should listen to it before buying anything else."
"It developed soundstage off the speaker baffles where I'm accustomed to hearing it with more expensive phono sections, and offered a rich, sophisticated tonal balance similar to the ARC's…. It was credible and listenable without reservation. The Cube's dynamic performance – particularly in the bass – was as good as I'd remembered it being. There was weight, solidity, texture, and a pleasing sense of control that let me relax into the music. The Cube's spatial performance was surefooted, with outstanding image focus, appropriate size, and the kind of three-dimensionality and image layering one gets with far more expensive phono sections." (Michael Fremer)
Specs
Gain at 1kHz: Â 

MM - 40dB MC - 61dB

Signal to Noise: Â 

MM - 77dB MC - 69dB

Input Capacitance

100pF

Input Impedances: Â 

47 k?, 470?, 100? (Switchable) 1 Slot For A Custom Load

Output Impedance

<100?

RIAA Filter

Passive Equalization Between Two Linear Gain Stages

Inter-Channel Mismatch

Typ. 0,5dB Â 

Power Consumption

<3W With External Regulated Power Supply (2x15V DC)

Dimensions (W x D x H)

Audio Section: 113 x 108 x 45mm³ Power Supply: 110 x 68 x 55mm³

Weight

App. 0,7kg