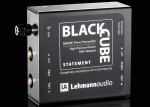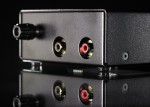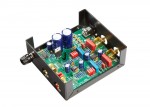 Lehmann Black Cube Statement
Product Code: LMP001
£ 299.00
ex-vat: £ 249.17
The Lehmann Black Cube Statement was derived from Lehmann's cult-status Black Cube, built to an even more affordable price.
The Black Cube Statement features switch settings for both moving-magnet and low-output moving-coil cartridges, with even an on-board slot for fitting custom resistors to match any exotic moving coil. Its small size means it can be placed near or even beneath a turntable, making possible the use of very short interconnects for minimal signal loss.
The internet established the reputation of Lehmann phono stages, with hi-fi magazines only recently catching on. As a result, Lehmann gear has an astonishing performance-to-price ratio. The Black Cube Statement is a little marvel.
Press Reviews
"You can certainly tell that phono preamps are Lehmann's specialty when putting it through its paces. Instruments and vocals sounded accurate, having a 'studio-like' honesty…. Well-recorded vocals are lapped up by the Lehmann, so where rival phono stages conveyed the power of a performance, this Black Box went one step further by capturing the tone of the voice."
"We were very taken by this little amp, especially with a moving magnet cartridge as source. Its sound is open and quick, with very good insight and also excellent extension at both frequency extremes, and its lack of hum and low noise level are also welcome…. Good value and fills the gap between budget phono amps and the high-end."
Specs
Gain at 1kHz: Â 

31dB, 41dB, 51dB, 61dB (Selectable)

Signal to Noise Ratio

80db - 60dB Depending On Selected Gain

Input Capacitance

100pF

Input Impedances: Â 

47 k?, 1k?, 100? (Switchable) 1 Slot For A Custom Load

Output Impedances

<100?

RIAA Filter

Passive Equalization Between Two Linear Gain Stages

Soft Bass Roll-Off

6dB/oct. @60Hz Jumper Activated

Inter-Channel Mismatch

Typ. 0.5dB

Additional Feature: Â 

Output Capacitors Bridgeable With Jumpers. (Following Device Must Be DC Input Protected)

Power Consumption

< 3W With External AC Power Adaptor

Dimensions (W x D x H)

103 x 108 x 45 mm