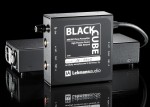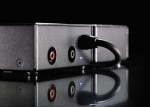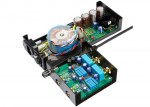 Lehmann Black Cube SE
Product Code: LMP003
£ 575.00
ex-vat: £ 479.17
The Lehmann Black Cube SE combines the already superb (and updated) Black Cube with Lehmann's PWX power supply. The result is everything the Black Cube is famous for, only lots more of it: more bass, more detail, more transparency—in short, more music.
The Black Cube SE features switch settings for both moving-magnet and low-output moving-coil cartridges, with an on-board slot for fitting custom resistors to match any exotic moving coil. Its small size means it can be placed near or beneath a turntable, making possible the use of very short interconnects for minimal signal loss.
The internet established the reputation of Lehmann phono stages, with hi-fi magazines only recently catching on. As a result, Lehmann gear—and the Black Cube SE is a prime example—has an astonishing performance-to-price ratio.
Press Reviews
"When pitted head to head with the far-more-expensive Lamm LP2 and the excellent Hovland MC phono stage, the Black Cube SE hung tough but couldn't match the same level of detail retrieval, transparency, or overall refinement. In absolute terms, however, the Black Cube SE delivered the bulk of the musical goods and, like the original Black Cube before it, proved a formidable performer at a real-world price…. The fact that I'd even discuss the budget Black Cube SE in the same breath as the Lamm LP2 and Hovland HP-100 is testament to its exceptional overall performance."
"The turbocharged Black Cube delivers a punchier and faster sound, with that 'kick' in the bass that keeps Music alive. Rock fans will have nothing to complain about 🙂 This improvement does not harm the microdynamics performance, which is indeed better than before thanks to the ability of the new unit to precisely follow Music patterns (percussive or melodic) with plenty of ease. This helps improving that 'live effect' the Cube had in spades since its first release….Its natural sense of pace and rhythm is still here and helps vinyl to keep that proper 'timing' only top-end analogue playback systems are capable of."
Specs
Gain at 1kHz

40dB MM / 61dB MC

S/N ration (Eff. Unw.)

77dB MM / 69dB MC

Input Capacitance

100pF

Input Impedances: Â 

47 k?, 470?, 100? (Switchable) 1 Slot For A Custom Load.

Output Impedance

<100?

RIAA Filter: Â 

Passive Equalization Between To Linear Gain Stages

Inter-Channel Mismatch

Typ. 0,5dB

Power Consumption

< 3W; External PWX Power Supply (2x15V DC)

Dimensions (W x D x H)

Audio Section - 113 x 108 x 45mm³ Power Supply - 233 x 93 x 45mm³

Weight: Â 

Audio Section Approx. 0,4kg Power Supply Approx. 1,0kg