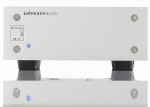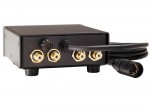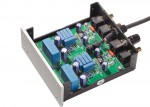 Lehmann Black Cube SE II
Product Code: LMP004
£ 699.00
ex-vat: £ 582.50
The Lehmann Black Cube SE II is a further refinement of the Black Cube SE, also paired with Lehmann's PWX power supply. The housing is upgraded, and is available in a silver or black finish. The result is a "little gem of a phono stage," according to Hi-Fi News.
The Black Cube SE II features switch settings for both moving-magnet and low-output moving-coil cartridges, plus four different roll-off settings for bass performance. Its small size means it can be placed near or beneath a turntable, making possible the use of very short interconnects for minimal signal loss.
The internet established the reputation of Lehmann phono stages, with hi-fi magazines only recently catching on. As a result, Lehmann gear has an astonishing performance-to-price ratio.
Press Reviews
"No sooner had the stylus hit the first groove than I was struck both by the clarity and space between instruments and the width and depth of the well-defined soundstage before me. Clearly, I was dealing with a very capable and musical performer indeed…. From the Cube, I was looking for accuracy. None of the passages ever sounded rushed or blurred; rather, it felt as if the Knopfler brothers had all the time in the world. Never was the tonal quality over-rich, and I basked in a presentation that walked that tricky line between warmth and precision…. The silences between the musical phrases were inky black while the decay of the hi-hats was fully resolved. To find more depth and detail in music I know so well was a remarkable experience and I warmed to this little gem of a phono stage all over again."
Specs
Input Stage

Dual Mono Microphone Pre-Amp (Chip Newest Generation)

Gain Settings

36dB, 46dB, 56dB, 66dB

Max. Gain 

66dB

Internal Impedance

47k, 1k, 100 R

Internal Input Capacitance &Â Cap Type:Â 

100 p Kp 1%

Soft Bass Rolloff Filter

16 Different Settings For Optimized Configuration Of High Pass Filter, DIP-Switch Configurable

High Gain

Yes, Dip Switch

RIAA Filter Caps

MKPÂ 

Bass Coupling After RIAA

MKP

Second Gain Stage

Dual Mono Burr Brown OPA 134

Output Capacitor

MKP

DC Output Jumper

Yes