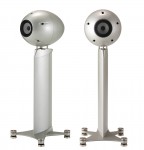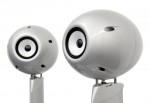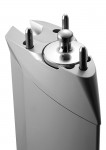 Eclipse TD712z Mk2
Product Code: ECL012
£7,995.00
ex-vat: £ 6,662.50
The Eclipse TD712z Mk 2 is the top model in the revolutionary Eclipse TD range.
The original Eclipse TD712z left the Stereophile reviewer struggling for superlatives: "An extraordinary speaker whose clarity, transparency, resolution, imaging, and timbral accuracy match or exceed those of just about every other speaker I've had in my system or heard at shows."
The Mk 2 version differs from the original in several significant ways. The speaker enclosure (the "head") is 50% larger in volume. The driver, although identical in diameter to the original, is new, somewhat shallower, and without any visible contact lugs for wiring. Although the stands look very similar to the originals, the interface with the speaker enclosure is now much tidier, and the locking mechanism very easy to adjust and fix. Speaker enclosures can be tilted from level to 12° upward.
And the sound? Well, to our ears (we had the first production units in the UK!), there's more bass, more high treble, and even more depth, detail, and that extraordinary Eclipse immediacy and presence. As with the originals, the TD712z Mk 2 has become one of our reference speakers here at Cool Gales. Magical.
Available only in piano black.
Price shown for a pair of TD712z Mk 2 speakers with integral stands. LIMITED AVAILABILITY.

Sorry, this item is not available for online order.
To purchase, please Contact Us.
Press Reviews
Five star rating! "The sonic presentation is more tonally even than before. There's enough bass weight for the speaker to sound balanced without using a sub, and its extra treble energy helps openness…. When it comes to timing, dynamics, and detail resolution, we doubt you'll find better—at any price. Much the same could be said of the stereo imaging. No other speaker in our experience, with the possible exception of Quad's electrostatics, can produce such a well-defined and precise sound stage. The Eclipses sound more life-like and cohesive than just about anything you can buy." (September 2009)
"This is a speaker that has the purity and precision that you rarely get to hear outside the world of high-quality headphones, but you don't sacrifice the scale and the spatial qualities of loudspeaker-based listening. The result is that it projects an image forward of the plane of the speakers that stays fixed in space with changes in listening position and angle; the only imaging changes are those encoded along with the source material…. This is an unusually lifelike loudspeaker, one that tells the musical story in a credible way." (The Collection, 2009)
"High-high-end speaker mongering is more commonly done by electronics and carpentry wonks in workshops in remote US states than in Japan with the support of the world's leading motor manufacturer. But the result of the Eclipse speakers' unconventional parentage is an almost shockingly pure sound…. Even if, like me, you find the further reaches of hi-fi criticism uncomfortably close to pomposity, you will still very likely pick up on the special quality of these speakers. The speed of their response ensures that you hear (and are, crucially, conscious of hearing) the vital first microsecond of a plucked string or vibrating drum. These kind of details are often a little lost in the heavy works and ponderous cabinetry of similarly virtuous but more conventional speakers. In the TD712z Mk2, the whole massive, 25 kg-a-unit bulk of the machines, from the stand to the bullet-shaped cabinet, pulls together to produce the sound." (How to Spend It, May 2009)
"Some remarkable sonic features were obvious with stereo and multichannel use. First and foremost, the level of detail is very high, with the sound presented coherently and with exceptional spatial imagery and focus…. Even with prior experience with Eclipse, I was surprised how good a job it made with difficult music in 2.1 mode; big Mahler symphonies breathed fire and menace and were completely gripping. And the same applied to other types of music such as Mary Coughlan's jazzy Moon Over Bourbon Street, as well as classical orchestral and piano-accompanied soprano voice…. In terms of design, build-quality and pure audio performance, the Eclipse system has few peers." (January 2011)
"As I played a variety of CDs and LPs, the system with the Eclipses had a clarity, transparency, resolution, timbral accuracy, and specificity of imaging that were simply breathtaking. The speaker did particularly well with voices, which had a human flesh-and-blood quality, an effect that I suspect was due to the absence of the mechanical resonances present with other speakers. We normally accept these resonances as inevitable and so must mentally tune them out. The difference with the TD712z was that these resonances simply weren't there—there was nothing to tune out…. The Fujitsu Ten Eclipse TD712z is an extraordinary speaker whose clarity, transparency, resolution, imaging, and timbral accuracy match or exceed those of just about every other speaker I've had in my system or heard at shows." (review of original version, January 2007)
"What you won't be able to ignore is the exquisitely transparent midband. There is a pellucid purity and tranparency here, a layering effect and an ability to convey complex textures that is really quite special. The ability of the speaker to start and stop more quickly than others is more than apparent in its sheer responsiveness. The bass also appears to be cast from the same bedrock as the midband…. In its musical endeavours the TD712z is aided by imaging that comes as close to audio holography—in two channel stereo no less—as you will hear from a pair of loudspeakers." (review of original version, January 2007)
Specs
Driver unit

12 cm

Input resistance (rating/maximum)

35 watts/70 watts

Impedance

6 Ohms

Efficiency/sensitivity

84 dB

Frequency range

35 Hz to 26 kHz (-10 dB)

Dimensions (mm)

347W x 989H x 431D

Weight

25.0 kg (each)