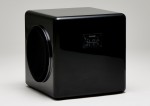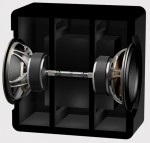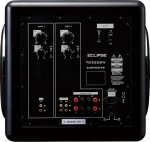 Eclipse TD520SW subwoofer
Product Code: ECL021
£3,249.00
ex-vat: £ 2,707.50
The Eclipse TD520SW subwoofer features twin bass drivers with a diameter of 20 cm and a built-in powerful compact digital power amplifier. Like its bigger sibling, the Eclipse TD725SW Mk2, the TD520SW is equipped with two input systems each provided with an independent audio volume and low-pass filter to enable use in stereo or surround mode. All operations, including input selection, can be managed by the included remote control.
Eclipse TD subwoofers are designed for the reproduction of music, not just cinema sound effects. They yield bass of precise pitch, subtle note decay, and spectacular dynamics. They can work with most speakers, but are especially suited to Eclipse TD systems, maintaining the phenomenal clarity of Time Domain sound.
Available only in high-gloss black finish.
Press Reviews
"All of this would be completely irrelevant if the bass underpinning these lightening fast satellites [Eclipse TD508 Mk3s] couldn't match them but the obsessive attention to detail that has gone into the TD520SW has honestly produced the most extraordinary sub I've ever listened to. The 520 is a racehorse in a field of Suffolk Punch's. It can't hit as hard as many rivals- it is effectively out of ideas at just the point where the SVS SB13 is getting ready to go to town on your internal organs- but the way it can go from total silence to potent wave of deep, clean bass is quite unlike anything else I've ever found on the market. The detail, subtlety and nuance of the bass it produces makes most other subs sound like blunt instruments. It is utterly and totally addictive."
Specs
Colour

Black

Configuration

R2R Twin Drive-Units, Sealed Enclosure

Speaker Unit

2 x 20cm Diameter Driver, Paper(Kevlar)

Frequency Response

25Hz-150Hz (-10dB) (at Bass Mode, L.P.F. 150Hz)

Rated Output

250W(T.H.D.1%)

L.P.F

30Hz-150Hz(Variable, On & Off)

Phase Adjustment

0/180° (Remote Control or Front Panel)

Play Mode

Bass/Direct (Remote Control or Front Panel))

Harmonic Distortion

0.05% Max (at 50Hz, 1/2 Rated Output)

S/N

95dB Minimum

Input

Line (Stereo) 2 / Speaker Level 1

Input Sensitivity

50mVrms(at 500W Output)

Input Impedance

10k? by Line/XLR 3k? by Speaker Level

Output

Line (Stereo) 1 / Speaker Level 1

Power Consumption

65W (Stand By: 0.5W)

Maximum Dimensions(mm)

W459 x H420 x D444

Weight

Approx. 37kg

Accessories

Grille x 2, Remote Control x 1, Power Cable x 1, FeltFeel x 4