Sale!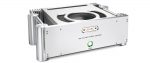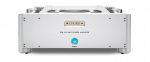 Chord SPM 1200 MkII (ex-dem)
Product Code: CES013
£ 8,950.00
ex-vat: £ 4,162.50
Our demo Chord Electronics SPM 1200 MkII power amplifier is a Chord classic, awarded five globes by Hi-Fi World, which described it as a "winning combination of power with precision…. very highly recommended." At its heart is Chord's dynamic coupling of the power supply rails, ensuring power delivery is always balanced and free from ground loop modulation distortion.
The SPM 1200 MkII has Chord's ultra high frequency low ESR power supply, with the amplifier sections equipped with the best high voltage, lateral structure MOSFETs available, resulting in a rating of 350 Watts RMS per channel.
A "sliding bias" class A/B design with all drive circuitry operating in class A means that at usual listening levels, most of the music will be reproduced in class A, thus combining the subtlety and musicality of a top valve design with the punch and accuracy of state-of-the-art solid state products.
Our demo unit is in silver finish with nickel columns. In absolutely immaculate condition, with all original packaging and documentation, and full manufacturer warranty.
Sorry, this item is not available for online order.
To purchase, please Contact Us.
Press Reviews
FIVE GLOBES! "If you are looking for a power amplifier which combines grunt with beguiling tonality then the Chord has it in spades. Worthy of an audition for anyone. Add in the superb design and this amplifier really is something special."
Specs
Output power

2 x 350 W RMS into 8 Ohms, 2 x 620 W RMS into 4 Ohms, 2 x 750 W RMS into 2 Ohms

Input options

2 x XLR, 2 x RCA

Dimensions

420W x 140H x 355D mm

Weight

18 kg