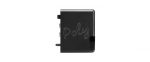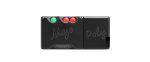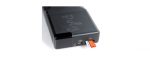 Chord Electronics Poly
Product Code: CED020
£499.00
ex-vat: £ 415.83
Chord Electronics Poly is a portable music streamer/player designed specifically to connect to Chord Electronic's Mojo to wirelessly stream from connected devices and playback from its Micro SD, all with smartphone control. It enables hi-fi sound quality at home or on-the-go, with Wi-Fi, Bluetooth, AirPlay and network connectivity and upgrades headphone, car and home audio performance.
When partnered with Mojo, Poly enables music streamed from a range of wirelessly connected devices to be enjoyed in the best possible sound quality, whether at home or on the go. Poly is also a music player: its unlimited-capacity Micro SD card slot can house huge libraries and liberate storage on smart devices. Full smartphone control using everyday apps enables effortless music playback whether streaming or playing music from the Micro SD.
Poly directly connects to Mojo's award-winning audio processing (DAC) technology dramatically improving the audio quality of streamed music. Its advanced design enables everyday devices, including Android and Apple smartphones/tablets, to become portable 'hi-fi-quality' digital audio players: the smartphone becomes the controller, with Poly and Mojo doing the high-level audio processing. Poly can also be used with computers and laptops, plus it can access networked audio stored on NAS drives using popular DLNA apps. Playback is via Mojo's twin headphone outputs, plus home and in-car audio systems with auxiliary (AUX) inputs can also benefit from improved sound quality.
Poly connects to Wi-Fi networks, including mobile hotspots when on the go, and remembers multiple networks with its auto-connect functionality. It also benefits from Bluetooth 4.1, AirPlay and DLNA connectivity, offering uninterrupted music streaming when transitioning from indoors to outdoors. Poly also features its own hotspot mode, enabling a connection where devices, networks or countries do not facilitate tethering. Its rechargeable LiPo batteries offer up to nine hours of playback from a four-hour charge using the device's fast-charging USB circuit; both Poly and Mojo can be charged simultaneously.
Poly is high-resolution audio-compatible, with support for the latest studio-quality files; PCM data up to 768kHz resolution and DSD64 to DSD256 (Quad-DSD). Supported file types include ACC, WAV, FLAC, AIFF, OGG VORBIS, ALAC, WMA and MP3.
Available in black finish only.
Download the user manual, including specifications.
Press Reviews
"In terms of musical matrimony, the Poly and Mojo could be gearing up for their Silver anniversary. Sonically, this is a match made in hi-fi heaven."
"There are few 'done deals' in audio, but the Chord Mojo+Poly is just that. Once you begin to get just why the Poly is so useful, the excellent Mojo becomes almost redundant without its partner."
"The Chord pairing shares a common trait of streaming systems in that it produces lots of low level detail, making for a richer and fuller picture of the music compared to CD. Kraftwerk's Radioactivity has lots of character in the bass and lovely scale to the reverb on this live version, it even sounds quite smooth which enhances listenability no end. Some time later I returned to the Poly/Mojo using the PMC Fact 8 speakers and Vertere cable, both of which are can be starkly revealing. The combination delivered tremendous immediacy and speed which made for an exciting if slightly edge of seat sound. On the plus side the timing is remarkably good which makes the music involving and keeps you listening regardless of the tonal balance."
"Poly soon proves itself to be no novelty item but a very competent playback device, transcending any assumed limitations brought about by its compact size. The built-in battery is good for nine hours' use – one less than the Mojo manages, depending on volume levels – and the sound of the combination is every bit as thrilling and precise as that of the Mojo alone, with excellent bass weight and bags of detail and ambience."
"The Chord Mojo is already one of the strongest contenders in the portable audio arena. The addition of the Poly supercharges the Mojo and what was already a hugely versatile piece of equipment.
I'm told there are a few tweaks in the software roadmap that I am personally looking forward to, but overall this is a worthy and essential upgrade for your Mojo."