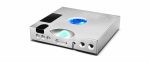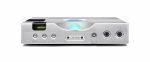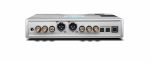 Chord Electronics Hugo TT 2
Product Code: CED012
£3,995.00
ex-vat: £ 3,329.17
The Chord Electronics Hugo TT 2 is effectively a table-top (hence, the TT designation) version of Chord's ground-breaking mobile Hugo, with a high-end DAC and headphone amp in one compact chassis. It even has volume controls to link to a power amp like the matching TToby. Designed for a home system rather than for mobile use, it's larger than the non-TT version, adding a remote control, an alphanumeric LED display with input/sample rate data, and even more spectacular sonic performance.
It delivers massive sonic improvements over the original Hugo TT, with 768kHz PCM and DSD 512 playback, setting a new benchmark in table top audio, eclipsed only by DAVE.
Hugo TT 2's heart is a powerful Xilinx Artix 7 FPGA, with 86x 208MHz cores running in parallel to create an advanced 16FS WTA 1 filter with 98,304-taps, double that of its multi-award winning transportable brother, Hugo 2 (49,152). Hugo TT 2 also benefits from an upgrade from a 4-element design to a 10-element design, which works in harmony with the radically upgraded FPGA and code to deliver unrivalled audio.
A brand new high-power discreet output stage coupled with second-order noise-shaping integrated between the DAC output and filter is also employed to massively reduce distortion. Further improvements have also been made to the power delivery. It has six super capacitors capable of delivering huge, linear dynamic currents when the music demands it with peak output of 5A, 9.3V RMS.
Hugo TT 2 has the four-stage user-selectable filter controls introduced with Hugo 2, also and retains the three-stage user-selectable digital crossfeed function for headphone users who want to improve the perception of depth, similar to that of speakers.
Available in silver or matte black finish. Three years manufacturer warranty.
Download the product brochure, including specifications.
Sorry, this item is not available for online order.
To purchase, please Contact Us.
Press Reviews
"In performance and feature terms it's possible to make a strong case for the Hugo TT2 to be considered the best value DAC the company makes. You've got to have a mighty transparent system (and fat wallet) to justify the use of the DAVE over this.
"There's now also plenty of clear air between the performance of the TT2 and the standard Hugo 2, enough to make the price difference easily justifiable in a suitably talented set-up."
"As a long-term Hugo user, I've doubted things could get much better at anywhere near the price. The Hugo TT is a little more than twice as expensive and, of course, it isn't twice as good. But where it does exceed the original Hugo – in its dynamic acuity, bass power and an enhanced sense of muscularity – it synergises so well with the terrific TToby (no surprise) that the sonic upshot is even more impressive than the sum of its parts. Table top or not, the Hugo TT and TToby pairing make most price peers look pale and uninteresting. Starting a system from scratch, I couldn't think of a more effective way to allocate budget. Outstanding."