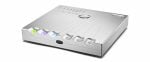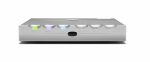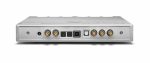 Chord Electronics Hugo M Scaler
Product Code: CEDD018
£ 3,495.00
ex-vat: £ 2,912.50
The Chord Electronics Hugo M Scaler revolutionises sound quality from digital audio. The perfect partner for any high-quality DAC, it can transform standard 44.1kHz digital audio up to 705.6kHz (16x CD's 44.1kHz native resolution), and with higher resolution 96kHz inputs, it extends its upscaling performance to 768kHz for dual-BNC-input DACs. Digital never sounded so astonishingly life-like.
The Hugo M Scaler's compact form factor aligns with the TT (Table Top) series and has been designed to be stackable with other units in the range, including the TToby stereo power amp and the Hugo TT 2, to form a highly advanced yet space-saving system. In line with other models in the Hugo and Hugo TT series, the device features a number of illuminable fascia-mounted spherical controls, governing input selection, output sample rate and video mode for lower latency. The control spheres display data visually including input source and the incoming sample rate, using a polychromatic scale.
When partnered with a Chord Electronics' 768kHz-capable dual-BNC-input DAC (like DAVE), the Hugo M Scaler sets an astonishing technical benchmark for digital audio performance at it price point, redefining sound quality from digital audio.
Available in silver and black finish.
Click here for the user manual with full specs.
Sorry, this item is not available for online order.
To purchase, please Contact Us.
Press Reviews
"I have a feeling that the M Scaler will prove to be one of the most significant, and probably controversial, products of 2018. It is sure to intrigue those who have already found Rob Watts' DAC designs to be a cut above, and just as likely to prompt the Monty Montgomerys of this world to dismiss it as delusional.