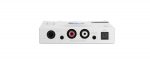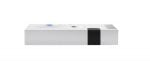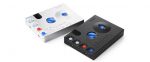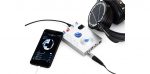 Chord Electronics Hugo 2
Product Code: CED005
£1,800.00
ex-vat: £ 1,500.00
The original Hugo, launched in 2014, was a landmark product in the audio landscape. Advances in digital technology, including the latest FPGAs and WTA (Watts Transient Aligned) filters, have enabled the introduction of the next-generation Chord Electronics Hugo 2.
This compact, versatile DAC with integral headphone amp, with its line-level output and a full-function remote control, can be used both at home in a high-end audio system and on-the-go.
The device offers four digital inputs (optical, coaxial and HD USB) plus extended-range Bluetooth, with high-resolution file playback up to 768kHz and up to DSD512 (Octa DSD), via its HD USB input. Analogue outputs include 2x RCA, plus 3.5mm and 6.35mm headphone outputs.
A four-function switch filter offers a useful degree of user-selectable frequency-shaping, bringing warm and soft or transparent and incisive presentations, giving additional flexibility and user control. For headphone-listening, Hugo 2 retains the popular digital crossfeed function of the original and offers three operation modes. The system duplicates the effect of listening to speakers and is based on advanced binaural audio research.
Hugo 2 features four spherical control buttons, which illuminate with colour-coding information and control power, input, filtering, plus the unit's crossfeed functions.
Battery playing time is around seven hours and two modes of automatic charging are included using the dedicated Micro USB charging port; an indicator shows charging and battery-charge status.
Available in silver or matte black finish. Three year manufacturer warranty (18 month warranty for battery).
Download the product brochure, including specifications.
Sorry, this item is not available for online order.
To purchase, please Contact Us.
Press Reviews
"Put simply, it is difficult in the extreme to find meaningful fault with the way Hugo 2 converts and delivers your digital audio files.
"And while it's obviously preferable to feed in a file of meaningful size in order to hear Hugo 2 at its best, unlike the outgoing Hugo this DAC doesn't have a lot of unkind observations to make if you lower yourself to Bluetoothing a 320kbps Spotify file. Hugo 2 simply makes the best of it…
"There isn't another DAC around at anywhere near this sort of price able to communicate so torrentially, so unambiguously or so effortlessly. We like it a lot."
"If I sound deeply impressed by the Chord Hugo2, that's because I am. At this moment in time I really can't think of any other transportable headphone amp/DAC that can directly compete with Hugo2, or that even comes close. Granted, the Hugo2 is not an inexpensive product, but it performs at such a high level as a headphone amplifier and especially as a DAC that it deserves your careful consideration and our strongest possible recommendation."