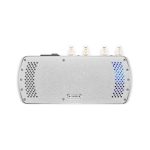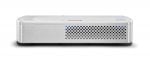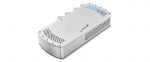 Chord Electronics Étude
Product Code: CES021
£ 3,900.00
ex-vat: £ 3,250.00
The Chord Electronics Étude is a 150 W Class AB stereo power amplifier featuring highly advanced technologies from the aerospace industry.
The Choral Étude has been designed to both compliment and exploit the full potential of the multi-award winning DAVE DAC, which could be used as a partnering linestage with volume control.
The design for Étude is based upon multi-feedback and dual feed-forward error-correction amplifier technology that intelligently adjusts and compensates the individual linearity of the 250 W lateral structure high-power proprietary MOSFETs. Internally there are three individual high frequency switch mode power supply units, one for each active power rail and a final for the auxiliary rails. When paired with advanced internal shielding, active cooled plenum chamber design, and custom Chord Electronics MOSFETs, you have Étude, an world class extremely fast crystal clear amplifier.
Although the amplifier is conservatively rated at 150 W into 4 Ohms, it can be run in bridged mono mode, increasing power to 300 W into 4 Ohms.
Available in silver or black finish.
Download the user manual, including specifications.
Sorry, this item is not available for online order.
To purchase, please Contact Us.
Press Reviews
"This is practically a perfect storm of good for a power amplifier. Most want that detail and accuracy. They want an amplifier to replicate the sound in the studio. But they also want the musicianship to make the cut too. It should sound like what went on in the studio as well as a portal to the control room. The Étude does both very well indeed, arguably better than most other Chord Electronics amps., although the Ultima is architecturally similar. There is more of a musical flow to the Étude than I expected, but this comes without a trade-off (many other designs do that musical flow well, but at the expense of some dynamic range, bottom-end energy, solidity, or soundstage size), but the Étude retains Chord Electronics' good reputation in all these aspects of performance."