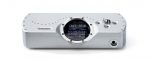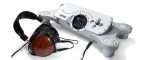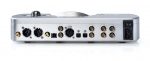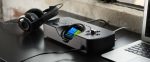 Chord Electronics DAVE
Product Code: CED013
£ 8,499.00
ex-vat: £ 7,082.50
What Hi-Fi? describes the Chord Electronics DAVE pretty simply: "If you're looking for the best DAC money can buy, the DAVE is a superb place to start. We haven't heard anything that sounds so natural or insightful."
DAVE is not just a highly advanced reference-grade DAC,  it's also a digital preamp and headphone amplifier. Hand-made at Chord's beautiful factory in Kent, DAVE is based around a proprietary FPGA (Field Programmable Gate Array) offering more than ten times the program capacity of its predecessor. The FPGA's extraordinary capability enables a number of key sonic benefits including significantly improved timing and the best noise-shaper performance of any known DAC. DAVE"s technology delivers music with unmatched reality and musicality, with an unrivalled timing response.
DAVE can be used with the integral volume control to drive an amplifier directly, but can be switched to DAC mode for use with a preamplifier or AV amplifier.  Included is a high quality headphone output which is able to drive both in ear monitors and also on ear headphones from 8 to 800 ohms. Supplied with full remote control that will work with other Chord Electronics products.
The acclaim for DAVE (a classic Chord Electronics product name, DAVE is an acronym for "Digital to Analogue Veritas in Extremis") since its launch has been so extraordinary that some other manufacturers are now using DAVE to design and test their products.
Available in silver or black finish.
Sorry, this item is not available for online order.
To purchase, please Contact Us.
Press Reviews
"There's only one DAC we could give this award to this year… DAVE pushes the envelope of just what is thought possible in digital audio in the home, and in the process delivers a product that sounds so good, it makes you wonder whether we have reached the pinnacle of what's possible…
"The DAVE is that rare beast; a device that performs equally well in all these aspects of performance, and by 'equally well' we mean it does an outstanding, class-leading job."
"If you're looking for the best DAC money can buy, the DAVE is a superb place to start. We haven't heard anything that sounds so natural or insightful…
"It doesn't take more than a few seconds of listening to realise that the DAVE is something special. It just sounds so right from the beginning that it genuinely takes effort to even try to deconstruct its performance. When we did, we found a formidable array of talents with no discernible weaknesses."
"All this digital firepower is reflected in a truly remarkable musical presentation. Whether playing high-resolution or standard CD, the Chord conveys music with timing, resolution and class-leading detail. Instrumental separation is exceptional – meaning you can hear right into the mix on even the densest of tracks. This is a real benchmark product and a worthy award winner."
"A rare high score for Chord's DAVE, but then this is no ordinary digital-to-analogue converter. From the handcrafted quality of its casework to the sheer quantity of proprietary engineering within, this is a standard-setting product, and when you hear it in action all that hard work – and the price – is more than justified by a scintillating performance. From lab to listening room, this is an outstanding product."
"Never before have I heard my CDs or my digital music files in such good quality. This is true when judged by the usual hi-fi standards but, more importantly, it is also true when judged by the music's emotional impact. Because the DAVE merges fantastic accomplishments in the various areas into an absolutely coherent overall performance, it manages to bring out the touching emotional qualities of music. Depending on the track, music will be more relaxing, more engaging or more dramatic than before. The times that we would accuse digital music of lacking 'soul' are long gone by now, fortunately. And with the DAVE digital music now achieves a completely new level of intensity. And it does so without any flamboyancy, just by doing everything right."
"DIGITAL TO ANALOGUE Veritas in Extremis – or DAVE to its friends – is Chord's most advanced DAC to date (although more accurately described as a digital preamp), and comfortably the best such device we've seen in some time. From the hand-crafted quality of its casework to the excellence of the proprietary engineering under the hood, this is no ordinary product. Whether it's fed CD-quality files or content that pushes the upper limits of hi-res, DAVE delivers remarkable instrumental timbres and detail with ease. Capable of growling out the deepest bass while remaining untroubled by the speed and complexity of the most intricate rhythms, it's a standard-setting product."
Specs
Inputs

USB B-style: 44 kHz to 768 kHz - DXD and Quad DSD; 2x optical: 44kHz to 192kHz; 1 x AES: 44kHz to 192kHz; 4 x Coax: 44kHz to 384kHz; Dual-data mode available

Analogue outputs

1 pair RCAs, 1 pair XLRs

Digital outputs

2x ultra-high-speed coax 768kHz dual-data mode for use with future Chord Electronics products

Dynamic range

127.5dB (AWT)

Maximum output voltage

6 volts RMS

THD and noise at 2.5 volts

RMS 0.000015 %

Dynamic range at -60 dBFS

1kHz -127 dBA A wt

Power supply

90V AC - 250V AC auto switching 50 - 60HZ

Dimensions

338W x 60H x 145D mm

Weight

7 kg