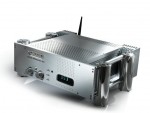 Chord Electronics CPM 2800 Mk II
Product Code: CES007
£7,300.00
ex-vat: £ 6,083.33
The Chord Electronics CPM 2800 Mk II integrated amplifier has all the power and capability of the CPM 2650 integrated, and adds digital coax, optical, USB, and even Bluetooth wireless inputs, plus an integral high-quality DAC. Rated at 120 Watts per channel RMS into 8 Ohms.
The USB port can be connected to a PC, which will seamlessly appear as an audio device. The bluetooth connection uses a very simple pairing procedure and with a range of up to 30 meters it can be used anywhere in the home to play music stored on PCs, tablets, or smartphones.
Finishes available: black or silver, with black, silver, or nickel columns. Side blocks in black acrylic also available.
Download the user manual, including specifications.
Sorry, this item is not available for online order.
To purchase, please Contact Us.