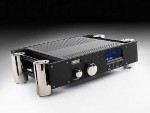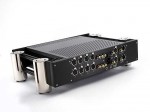 Chord Electronics CPA 3000
Product Code: CES010
£ 6,900.00
ex-vat: £ 5,750.00
The Chord Electronics CPA 3000 linestage features a high frequency switch mode power supply and ultra low noise circuitry. Four pairs of balanced style XLR inputs allows for great flexibility with two additional RCA inputs for unbalanced sources. A single tape loop is available for playback and also to record from any of the connected sources. Fully balanced AV bypass circuitry allows for direct connection to an AV processor, bypassing the unit's volume control. Highly accurate VU meters under the main display give both clear signal detection and accurate input level.
Finishes available: black or silver, with black, silver, or nickel columns.
Download the user manual, including specifications.
Sorry, this item is not available for online order.
To purchase, please Contact Us.