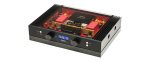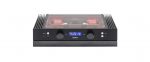 Brinkmann Nyquist II
Product Code: BKD001
£ 12,995.00
ex-vat: £ 10,829.17
The Brinkmann Nyquist II is a DAC that renders "images as fully fleshed-out three-dimensional objects surrounded by tangible air, much the way that great analog does," according to The Absolute Sound. You'd expect no less from Helmut Brinkmann, the analogue master.
The Mk II version is optimised to accommodate the latest digital formats including MQA™ (Master Quality Authenticated) streaming and playback, PCM up to 384 kHz/32 bits (including DXD),as well as DSD64, DSD128 and DSD256. Both the hardware and software are easily user-replaceable, ensuring that Nyquist will remain on the cutting edge of digital technology. Part of Nyquist's musical secret is hybrid circuit topology, with NOS Telefunken valves (tubes) used in the output stage.
Nyquist offers outstanding connectivity, including USB, SPDIF, optical and Ethernet inputs. Balanced, single-ended and discrete headphone outputs are all standard. Nyquist offers Roon™ network playback and music management and supports many streaming services. Optimised, pre-selected filters have been carefully tailored for every digital format. A comprehensive remote handset offers control of head phone volume, input selection, mute and phase/invert. Dedicated granite base included.
In short, the Nyquist delivers the holy grail of every audiophile, "a kind of holographic simulation of the live event" (Alan Sircom, editor of Hi-Fi+). A Brinkmann masterpiece.
Download the user manual, including specifications.
Sorry, this item is not available for online order.
To purchase, please Contact Us.
Press Reviews
"The Nyquist was the antithesis of flat, dry, sterile, and lacking in air. Instead, the soundstage was gloriously infused with a tangible space between instruments, with a puff of air around them. Digital has the tendency to starkly render images, with precise specificity and sharp outlines, but somehow fails to capture the ethereal component of three-dimensionality of both the soundstage and the images within it. Images lack body and roundness, sounding flat and dry. The whole thing has a "freeze-dried" character. But the Nyquist transcends these common shortcomings, rendering images as fully fleshed-out three-dimensional objects surrounded by tangible air, much the way that great analog does."
"The Nyquist [summons] up the musicians and conductors in front of you, in a kind of holographic simulation of the live event. The comparison is one of head vs. heart if you like, with the Nyquist taking the 'heart' route all the way. That is not to say it's lacking in cerebral qualities, that it's an euphonic digital warmer-upper, or that it is somehow engineering music to sound 'nice', but the fact remains I found listening to the Nyquist a hugely enjoyable event each and every time I listened to it. Accurate? Accurate to what? The Nyquist is musically and temporally correct and it shows. Others might be more pitch perfect across the frequency domain, but if the Nyquist rings your bell, you probably won't care one jot." (Alan Sircom)
"After a series of listening sessions – our reactions ranging between astonishment and admiration for the audiophile potential of this exceptional device – as well as numerous cross-checks, it's clear the Nyquist is able to set standards in terms of naturalness, extreme finesse and the way its handles voices, acoustic instruments and orchestras. Its delivers an entirely three-dimensional image, and what it can tickle out of the finest nuances is nothing short of sensational."