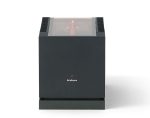 Brinkmann Mono Power Amplifiers
Product Code: BKS003
£ 12,895.00
ex-vat: £ 10,745.83
The Brinkmann Mono Power Amplifiers have been hits at our Bath AudioFests, impressing attendees with their effortless power, clarity, and presence.
Key features include
An extremely stable power supply consisting of a transformer that can deliver up to 1500 watts peak power.
A fully balanced driver stage.
An output stage in Brinkmann's "Diamond" topology that retains its low impedance at all frequencies and phase angles without feedback.
Four high-performance transistors attached directly to the speaker terminals for the shortest possible signal path, which results in an extremely compact build.
Price shown for a pair of monoblocs, including dedicated granite bases.
Maximum performance in relatively compact packages.
Sorry, this item is not available for online order.
To purchase, please Contact Us.
Specs
Power output

250/150 W (4/8 Ohm)

Minimum loudspeaker impedance

3 Ohms

Damping factor

80 into 8 Ohm load

THD

0.1% at 50% power

Input sensitivity /impedance

1.55 V/1 kOhms (RCA), ± 775 mV/600 Ohms (XLR)

Dimensions (WxHxD)

190 x 220 x 315 mm (with granite base)

Weight (each monobloc)

18 kg; granite base 5 kg