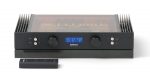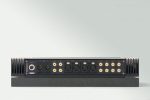 Brinkmann Marconi II
Product Code: BKS002
£ 8,895.00
ex-vat: £ 7,412.50
The Brinkmann Marconi II linestage, is an elegant, no-compromise tube design. It features four RCA and two XLR sets of inputs (each of which can be individually adjusted for gain level), one set each of RCA and XLR outputs, and even a tape output.
The volume control consists of a motorised potentiometer that can be operated either remotely or with the knob on the front plate. This potentiometer digitally controls ICs which in turn adjust the playback volume passively with discrete resistors in precise steps of 0.5 dB. The remote control allows the selection of the inputs, controls the volume (including mute) and allows the switching of the absolute phase of the signal. The display on the front panel informs about the selected input, its level and the absolute phase.
Remote control, separate power supply, and granite base included.
And ideal control centre for the very finest high-end systems.
Sorry, this item is not available for online order.
To purchase, please Contact Us.
Specs
THD/IM distortion

0.01%/0.05%

Gain

12.5 dB

Output voltage

Maximum ± 12 V symmetrical

Input impedance

20 KOhms

Output voltage

Maximum ± 12 V symmetrical

Output impedance

600 Ohms symmetrical

Input sensitivity

150 mV

Frequency response

DC ... 250 kHz

Signal-to-noise ratio

90 dBA

Dimensions (WxHxD)

420 x 95 x 310 mm (with granite base); power supply 120 x 80 x 160 mm

Weight

12 kg; granite base 12 kg; power supply 3.2 kg