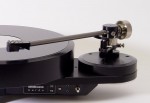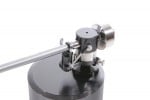 Brinkmann 10.0
Product Code: BKA003
£ 2,495.00
ex-vat: £ 2,079.17
The Brinkmann 10.0 tonearm shares many of the same components of the reference-level Brinkmann 10.5 tonearm: the arm tube with the special hard ceramic surface, the headshell, the tonearm lift, and the mount.
The bearing, unlike that of the 10.5, is a form of unipivot, with a miniature bearing mounted on a stainless steel tip for the horizontal mounting, and a ceramic bearing at the bottom. Azimuth is adjustable via a bolt on the headshell. A plastic jig is included to set precise azimuth.
A superb affordable alternative to the Brinkmann 10.5 and 12.1
Sorry, this item is not available for online order.
To purchase, please Contact Us.
Specs
Distance platter center to tonearm bearing center

243 mm

Effective length

258 mm

Overhang

15 mm

Cartridge mount

1/2'' connector, long holes

Minimum distance between mounting surface and platter top

28 mm

Dynamic mass

ca. 12 g

Total weight

ca. 400 g

Counterweight

140 g

Scope of delivery

tonearm with 5-pole-SME-connector