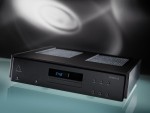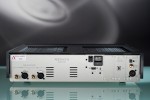 Aesthetix Romulus
Product Code: AED001
£ 9,200.00 – £ 10,500.00
ex-vat: £ 7,666.67
The Aesthetix Romulus is a vacuum tube based CD player with one USB and three S/PDIF inputs for use as a DAC.
In addition to all the features of the Aesthetix Pandora DAC, the Romulus includes a dedicated Red Book CD transport. A special audio-purpose TEAC mechanism is used, but instead of running from S/PDIF or other jitter-prone serial connections, data is retrieved from the IDE bus. This allows the DAC's master clock to be in complete control of the timing of the audio data and yields the minimum possible level of jitter.
The USB input uses the asynchronous transfer mode licensed from Gordon Rankin / Wavelength Technologies with an ultra-low jitter fixed-frequency crystal clock immediately adjacent to the DAC. This technology allows for jitter levels over one hundred times lower than previous USB solutions. The USB input is capable of Class 1 audio up to 96KHz / 24bit and Class 2 audio up to 192KHz / 24bit. The S/PDIF/AES inputs use a unique jitter reduction technology that offers jitter performance on par with asynchronous USB and are also capable of up to 192KHz / 24 bit.
The DSP section utilizes the Motorola DSP 56362 for oversampling filters specially designed by Aesthetix, which adapt according to the incoming sample rate. Over 1.5 megabytes of static memory buffering is selectively used to completely isolate incoming data from USB and S/PDIF from outgoing data to the DAC.
The clock chrystals are also specially designed to offer radically lower jitter and noise than any standard issue part. There are separate crystals for 44.1KHz based sources (44.1, 88.2, 176.4KHz) and 48KHz based sources (49, 96, 192KHz). The clock section is powered by its own discretely regulated power supply, to isolate it from the DAC.
Digital to analog conversion is performed by the Burr-Brown PCM 1792A run in pure differential mode.
The output stage features a current-sourced fully differential zero feedback vacuum tube amplifier (12AX7) being fed from the DAC. Output buffering is performed by one 6922 per channel, also run in pure differential mode with zero feedback.
A high-resolution volume control, allowing the Romulus to be connected directly to a power amplifier, can be included as an optional feature.  Please contact us for details.
Available with a black or silver facia.
Sorry, this item is not available for online order.
To purchase, please Contact Us.
Press Reviews
GOLDEN EAR AWARD 2014! EDITORS' CHOICE AWARD 2014! "This all-tubed CD player and DAC is one of the greatest bargains in high-end audio today. What makes the Romulus special is that it sounds so "un-digital," particularly at this price. Rather than sounding flat and congealed, the Romulus opens up the spatial presentation and gives instruments and voices room to breathe. The player has an expansive quality along with a sense of top-octave air and openness. The tonal balance is rich and warm in the bass, which, coupled with the treble smoothness, results in an immediately engaging and fatigue-free presentation. The Romulus doesn't sound "tubey" in the classic sense, but neither does it sound like solid-state. The design and build-quality are beyond what's expected at this price. If you have no analog sources, the Romulus can serve as a preamplifier and DAC with multiple digital inputs, provided you purchase the variable-output option. Thanks to an innovative hybrid analog/digital volume-control, there's no loss of resolution no matter what the volume setting."
"Excellent dynamic impact and bass slam with sweet mids and highs."