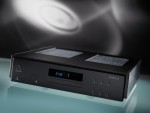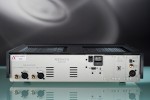 Aesthetix Romulus Signature
Product Code: AED001SIG
£ 13,100.00 – £ 14,400.00
ex-vat: £ 10,916.67
The Aesthetix Romulus Signature is a vacuum tube based CD player with one USB and three S/PDIF inputs for use as a DAC. In addition to all the features of the standard version, the Signature version includes
True native DSD 1x and 2x functionality over USB and 1x DSD over S/PDIF (AES/EBU, RCA Coax and TosLink). Many DACs in the market that claim to play DSD actually convert the data to PCM and thereby completely lose the purpose of DSD operation.
An entirely new analog board with extremely low noise, high linearity Vishay Z-foil audio resistors allows DSD data to pass directly to the DAC, a Burr-Brown PCM1792A running in pure differential mode.
Critical coupling capacitors are replaced with Dynamicaps from Peter Moncrief, yielding increased resolution, less grain, greater high frequency extension and naturalness, while maintaining that fabulous hallmark Aesthetix tone.
The rubber feet of the standard model are replaced by Harmonic Resolutions Systems' Nimbus Couplers, specially made for Aesthetix. These lower the noise floor and add more air and space.
A high-resolution volume control, allowing the Romulus Signature to be connected directly to a power amplifier, can be included as an optional feature.  Please contact us for details.
Available with a black or silver facia.
Sorry, this item is not available for online order.
To purchase, please Contact Us.
Press Reviews
GOLDEN EAR AWARD 2014! EDITORS' CHOICE AWARD 2014! "This all-tubed CD player and DAC is one of the greatest bargains in high-end audio today. What makes the Romulus special is that it sounds so "un-digital," particularly at this price. Rather than sounding flat and congealed, the Romulus opens up the spatial presentation and gives instruments and voices room to breathe. The player has an expansive quality along with a sense of top-octave air and openness. The tonal balance is rich and warm in the bass, which, coupled with the treble smoothness, results in an immediately engaging and fatigue-free presentation. The Romulus doesn't sound "tubey" in the classic sense, but neither does it sound like solid-state. The design and build-quality are beyond what's expected at this price. If you have no analog sources, the Romulus can serve as a preamplifier and DAC with multiple digital inputs, provided you purchase the variable-output option. Thanks to an innovative hybrid analog/digital volume-control, there's no loss of resolution no matter what the volume setting." (review of standard Romulus)
"Excellent dynamic impact and bass slam with sweet mids and highs." (review of standard Romulus)