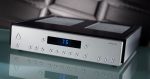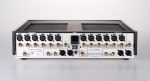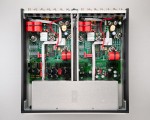 Aesthetix Janus
Product Code: AES003
£ 9,200.00
ex-vat: £ 7,666.67
The Aesthetix Janus preamplifier combines the circuitry of the Aesthetix Calypso linestage with an internal valve phono stage, all in one stylish chassis.
The Janus has 12 valves in total, with five single-ended (RCA) inputs, five balanced (XLR) inputs, one tape (RCA) input,  both RCA and XLR outputs, a home cinema pass-through mode, and a full-function remote control. In addition, there's a discrete resistor volume control with 88 1 dB steps and a selectable absolute phase control. Full-function remote included.
The phono stage features include:
40 to 75 dB gain, selectable via front panel or remote control
Nine load settings: 75 Ohms to 47 kOhms, selectable via front panel or remote control
Built-in MC cartridge demagnetizer
Remote control of gain, loading, input switching, mute, and demagnetizer
Available in silver or black finish. This is a special-order item, with a delivery time of about four weeks.
Jim White designed the Janus for audiophiles who listen mostly to CDs, and only occasionally to vinyl. For dedicated vinylphiles, Jim recommends the Aesthetix Rhea phono stage and the Calypso linestage combination. We do, too.
Sorry, this item is not available for online order.
To purchase, please Contact Us.
Press Reviews
"Big, bold, solid and surprisingly agile, these amps are good enough and communicative enough to put you really close to the performers and their performance. With unforced power and a real sense of presence, they project music with an uncannily natural sense of pace, flow and colour." (review of Janus and Atlas by Roy Gregory)
Specs
Inputs

1 phono RCA (SE), 5 line RCA or XLR (balanced), plus 1 tape, RCA or XLR

Outputs

2 RCA (SE) and XLR (balanced), 1 tape RCA

Phono gain settings

75, 68, 62, 56, 50, 44, 38 dB, and off

Line level gain

23 dB single ended (SE), in/out, and 29 dB balanced/out

Volume control

Switched resistor network volume control with 88 1 dB steps

Front panel controls

Main input, tape input select, volume, balance, phase, mute, display, bypass and standby

Remote controls

Main input, tape input select, volume, balance, phase, mute, display, phono gain and loading, demagnetizer, bypass and standby

Frequency response

±0.25 dB, 20 Hz - 20 Khz

Signal to noise

Measured at 70 dB minimum A-weighted (ref 1 mv input, 75 dB gain setting)

Line input impedence

40 k ohms SE, 80 k ohms balanced

Maximum line input

3.5 volts SE, 7.0 volts RMS balanced

Output impedence

1K ohms SE, 600 ohms balanced

Recommended load

10K ohms or greater (SE), 20K ohms or greater (Balanced)

Tubes, each channel

Phono section: V1 & V2 (12AX7-factory graded low noise), V3 (12AX7), V4 (6922/6DJ8); line section: V1 (12AX7 or equivalent), V2 (6922/6DJ8)

Power consumption

20 watts standby, 120 watts active

Physical dimensions

11.1 H x 45.4 W x 45.7 D cm

Shipping weight

18.1 kg