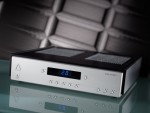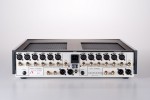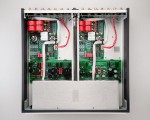 Aesthetix Calypso
Product Code: AES001
£ 6,550.00
ex-vat: £ 5,458.33
In his reveiw of the Aesthetix Calypso linestage, Robert Harley of the US hi-fi journal The Absolute Sound nailed its essence: "a sense of palpability and immediacy that recalls the magic of live music."
This elegant beauty features a four-valve circuit (one 12AX7WB and one 6DJ8 per channel), five single-ended (RCA) inputs, five balanced (XLR) inputs, one tape (RCA) input, both RCA and XLR outputs, a home cinema pass-through mode, and a full-function remote control. In addition, there's a discrete resistor volume control with 88 1 dB steps and a selectable absolute phase control.
Available in silver or black finish.
This is a special-order item, with a delivery time of about four weeks.
To quote The Absolute Sound review again, "Although far from the most expensive linestage I've had in my system, I must rank the Calypso as the best sounding overall."
Sorry, this item is not available for online order.
To purchase, please Contact Us.
Press Reviews
Editor's Choice Award 2008-2010! "The Calypso and Rhea do not sound like tubed electronics. I heard no trace of the classic tube sound—billowy soundstage, soft treble, full and ill-defined bass, or 'musicality' at the expense of resolution. Instead, the three words that best describe this duo—and both components share the same qualities—are 'open,' 'transparent,' and 'uncolored.' In fact, these electronics impose the least coloration on the music of any I've auditioned. They impart a sense of palpability and immediacy that recalls the magic of live music…. Although far from the most expensive linestage I've had in my system, I must rank the Calypso as the best sounding overall." (Robert Harley, December 2004/January 2005)
Recommended Component 2010! "That's how live music sounds. Get close to the stage and cymbals continue to ring sweetly, but more intensely. Even when you get so close your ears begin to throb and ring sympathetically, it's because of the SPLs, not because of harshness. The Calypso's tonal and transient presentation was like that. It never sounded hard or harsh, but neither did it sound soft or muffled or overly round. It was a truly amazing balancing act that had me cranking up the volume and sticking my smiling face right into it, night after night, and never wishing for more or less of anything." (Michael Fremer, July 2005)
Five Stars! "It's in the listening where these amps shine, though. When it comes to transparency and insight, this Aesthetix pairing [Calypso and Atlas] has more in common with the likes of Audio Research's Reference 3 and Ref 210 pre/power combination than it does with the vast majority of 10-grand rivals. Remember that the mighty and mightily impressive Audio Research pairing comes in at almost three times the Aesthetix's money, and you realise just how good a sound we're talking about."
Specs
Inputs

5 line RCA or XLR (balanced), plus 1 tape, RCA or XLR

Outputs

2 RCA (SE) and XLR (balanced), 1 tape RCA

Volume control

Switched resistor network volume control with 88 1 dB steps

Front panel controls

Main input, tape input select, volume, balance, phase, mute, display, and bypass

Remote controls

Main input, tape input select, volume, balance, phase, mute, display, bypass and standby

Frequency response

±0.25 dB, 20 Hz - 20 Khz

Signal to noise

Measured at 70 dB minimum, A-weighted (ref 1 mv input, 75 dB gain setting)

Line input impedance

40 k ohms SE, 80 k ohms balanced

Maximum line input

3.5 volts SE, 7.0 volts RMS balanced

Output impedance

1K ohms SE, 600 ohms balanced

Recommended amplifier load

10K ohms or greater (SE), 20K ohms or greater (Balanced)

Tubes, each channel

V1 (12AX7 or equivalent), V2 (6922/6DJ8)

Power consumption

20 watts standby, 60 watts active

Physical dimensions

11.1 H x 45.4 W x 45.7 D cm

Shipping weight

18.1 kg