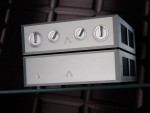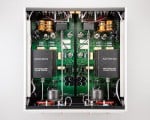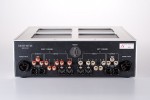 Aesthetix Callisto Eclipse
Product Code: AES004ECL
The Aesthetix Callisto Eclipse is "the ultimate realization of the true capabilities of the Callisto", a no-compromise all-tube linestage. Its features include:
Fully balanced differential circuitry with ability to internally balance a single-ended input signal.
Innovative and unique mechanically switched discrete resistor volume control with 46 positions using Roederstein resistors.
Separate volume controls and input selectors for each channel.
All tube amplification and output (8 tubes total).
Two sets of XLR and two sets of RCA outputs per channel.
Six inputs: First two single-ended (RCA) or balanced (XLR); remaining four single-ended (RCA) only.
Part of the Aesthetix Jupiter range of components, the Callisto Eclipse has a completely separate power supply, using eight tubes, linked to the main audio unit by an umbilical cord. The power supply has two main sections, the heater supply and the high voltage plus and minus supplies. At the heart of the heater supply is its massive, low flux, 210 VA power transformer which has fourteen separate secondary windings that are individually regulated and supply both the power supply and main unit heaters. The high voltage supply is composed of a similar massive 170 VA transformer which feeds a common-mode choke input filtering network and then high current vacuum tube regulators (one EL34/6CA7, three 12AX7 tubes per regulator). Each regulator is capable of supplying 600 volts at 100mA.
A single stereo power supply is standard. It is possible to order the Callisto Eclipse with two mono power supplies, each with its own mains connection, making the unit fully dual mono.
Another option is a remote control, allowing remote adjustment for volume and muting, and optionally phase. The remote system uses motors and pulleys to rotate the volume controls and has a completely isolated electrical system.
Other versions of the Callisto can be factory upgraded to Eclipse status. The Eclipse version features constrained-layer damped machined aluminum panels and Peter Moncrief's Stealth Capacitors. The resulting signal has a quieter background, rich and detailed spatial imaging, time focused musical coherence, and a broader more impactful dynamic range.
The finishes for the faceplate, dials, knobs, and logo of the Io Eclipse can all be customised. Please click here for a customisation tool on the Aesthetix website.
Available with one or two power supplies, with or without remote control, and with silver or black faceplate. Please contact us for pricing.
Sorry, this item is not available for online order.
To purchase, please Contact Us.
Press Reviews
"Simply phenomenal inner detail, vast soundstaging, and a dynamic and harmonic bloom that seems to bring every kind of music to vivid life."